Supermarine Spitfire Mk VB
Supermarine Spitfire Mk VB    MD-T   BL 255  'Buckeye-Don'
336th F.S. 4th F.G. 2nd Lt Don Gentile, Debden, October 1942.
In 1940 those United States volunteers who came forward to join the Royal Air Force were formed in to the first of three units, known by their familiar name of "Eagle Squadrons" after the patch on the shoulders of their personnel. The last of these was 133 Squadron, RAF, formed with Hurricanes at Coltishall in August 1941; after re-equipping it took its Spitfire Mk VBs to West Mailing in February 1942, spending the summer of that year at various airfields in South-East England. 133, along with fellow "Eagles" 71 and 121 Squadrons, was transferred to the USAAF in September 1942, the three forming the 4th Fighter Wing with their Spitfires and carrying their RAF unit code letters with them. Don Gentile had flown his own Aerosport biplane while he was still at high school, but was turned down when he applied to the USAAC for flying training. With the war on in Europe he enlisted in the RCAF, and subsequently transferred to the RAF, joining 133 Squadron in May 1942. While with 133 he shot down an Fw.190 and a Ju.88, and was awarded the DFC before moving with the squadron to the USAAF. Their Spitfires were replaced by P-47C Thunderbolts in Spring 1943, and they in turn gave way to P-51B Mustangs in February 1944. Before being repatriated at the end of his tour Gentiie had been credited with 27 victories, and was the winner of the unofficial race to overtake the 26 victory mark set by Eddie Rickenbacker in the First World War. The "boxing eagle" on the nose of "Buckeye-Don" became the emblem of the 4th Fighter Group, appearing on the nose of Gentile's P-47C Thunderbolt "Donnie Boy" and on his famous P-51B Mustang "Shangri-La". It was worn by the 4th Fighter Wing's F-86 Sabres in Korea, and is to this day the badge of one of the Wing's squadrons, equipped with F-15E Strike Eagles. "Shangri-La II" with the same eagle as nose-art took part in Operation Iraqi Freedom, and the 4th, based at Seymour Johnson AFB in North Carolina, has since seen action in Afghanistan. BL255 was built at Castle Bromwich, one of the big "shadow factories" and led an eventful life. Serving with 611 Squadron before moving to 133, on return from the USAAF it flew with 610,
118 and 611 (again), and 6.1 Operational Training Unit before being struck off charge on May 1945.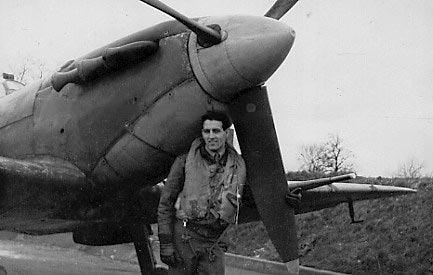 Scale 1:72    Wingspan 6.25″ (156 mm)
Base size 6.37″ (162 mm) square (No. 4)
Weight not including base 6.75 ozs (189 grams)
Total number of models produced 38