North American F-86F Sabre
North American F-86F Sabre   52-4584 MIG MAD MARINE / LYN ANNE DAVE 1
25th F.I.S. / 51st R.W. Maj John Glenn, USMC.
North American's F-86 Sabre is the iconic fighter of the 1950's. Originally planned with a straight wing, it was in time to take advantage in to the German research in to sweepback (see Me262A-1a) as a means of achieving speed and was the first fighter with this feature to enter mass production, first flying on 1 October 1947. It continued in production in the USA until 1956 – it was also built in Canada and Australia – and in service until 1980, when it retired from the Portuguese Air Force. It flew with thirty-six air forces and the US Navy and Marine Corps.
The Korean War saw the introduction to combat of jet fighters, with the Lockheed F-80 Shooting Star supplementing WW II-era Mustangs. In November 1950 the first swept-wing MiG-15 came down from the North; to counter this new threat the 4th Fighter Wing moved its first Sabres to Korea on 13 December, and it became symbolic of the USAF for the rest of the conflict. The F-86F that was the standard version by the end of the war had an all-flying tail and revised wing leading edge for better manoeuvrability, and an engine of almost twice the thrust of the original J-47.
The 51st Fighter Wing had several Marine pilots on attachments, of which Major John Glenn, who joined them toward the end of the conflict, was probably the best known. He had already flown 59 combat missions in the Pacific in WW II, and added a further 63 in Korea, where he scored three MiG "kills", though apparently in accordance with practice they were not credited to the Air Force Wing's total. He went on to become one of the first American astronauts, taking part in Project Mercury where he became the first American to orbit the Earth, and subsequently became a US Senator for Ohio in 1974; and in 1998 he became the oldest man in space, taking part in a Space Shuttle mission in "Discovery" at the age of 77.
His Sabre was marked both for his family and for himself; the yellow and black bands on wings and fuselage were standard recognition markings for USAF Sabres, and the black chequers on the fin identified 51st Wing aircraft.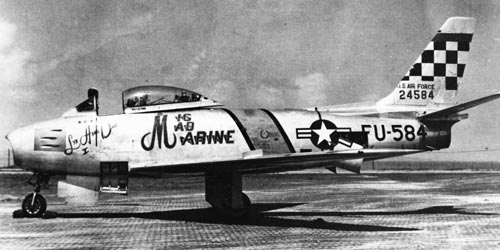 Scale 1:72    Wingspan 6.18″ (157 mm)
Base size 7.71″ (196 mm) square (No. 5)
Weight not including base 13 ozs (367 grams)
Total number of models produced 83