Hawker Typhoon Mk IB
Hawker Typhoon Mk IB     MN134    SF-S
137 Squadron F/O A.N. Sames, Manston, June 1944.
Supermarine were able to develop the Spitfire throughout World War II, and it was still recognisable as R J Mitchell's design even though just about everything had been changed. Hawker on the other hand had to develop an entirely new aircraft to succeed the Hurricane Mk IIC, and while the Typhoon had problems early in its development, particularly with its powerful but not always reliable Napier Sabre engine, by mid-1944 the Typhoon had found its well-remembered role as a tough low-level attack platform. Most of the Typhoon squadrons were deployed across the Channel as soon as possible after D-day, but two were retained in South-East England. 137 Squadron's primary task was anti-shipping patrols, but it obtained permission to carry out anti-"Diver" (VI "flying bombs) patrol when not occupied with the main mission. MN134 was the squadron's top-scoring VI destroyer, responsible for nine; three of these were to the credit of Fg.Off. Arty Sames, the only Typhoon VI "ace". By the end of 1944 the squadron was based at Eindhoven, by which time the black and white "invasion stripes" had been removed from the upper surfaces and the spinner painted red. Typhoon MN134 was damaged on the last day of the year, and saw no further active service.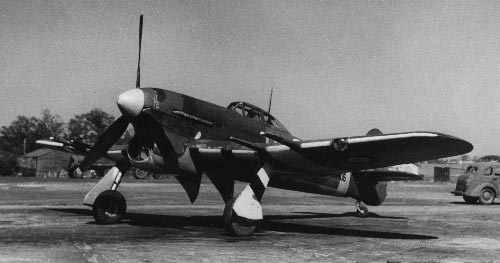 Scale 1:72    Wingspan 6.93″ (176 mm)
Base size 7.71″ (196 mm) square (No. 5)
Weight not including base 10.75 ozs (298 grams)