Hawker Hurricane Mk IIC
Hawker Hurricane Mk IIC    BE581   JX-E    'Night Reaper'
1 Squadron,   Flt Lt K Kuttelwascher DFC,   RAF Tangmere,   May 1942.
After serving through the Battle of Britain armed with eight .303 machine guns, the Hurricane was built with several alternatives, the most well-known, and the mark built in the greatest numbers, being the Hawker Hurricane Mk IIC with four 20 mm. cannon. The UK-based Hurricanes were no longer being used on interceptor tasks but found their niche in cross-Channel offensive operations. No.1 Squadron started the war with Mk I Hurricanes as part of the RAF's contribution to the defence of France, re-equipped with the Hawker Hurricane Mk IIC in April 1941 and operating from their traditional base at Tangmere started night intruder operations on 1 April 1942, continuing until July when the squadron was withdrawn from operations to re-equip with the Hurricane's successor the Hawker Typhoon.
BE581 was built by Hawker at Langley, and in common with others used on night fighter and intruder operations carried a pair of 45 gallon underwing tanks. Coded JX-E it was flown by FIt.Lt. Karel Kuttlewascher, who named it "Night Reaper", the name embellished with a scythe. Karel Kuttelwascher served with the Czechoslovak Air Force until his country was invaded by Germany. Like many Czech airmen he went to Poland and then to France, where he flew with the Armee de I'Air where he was believed to be responsible for the destruction of several Geman aircraft during the Battle of France. He made his way to England through Algeria and Morocco, joined the RAF and arrived on 1 Squadron on the 3rd of October 1940 in time to take part in the end of the Battle of Britain. In total he was responsible for the destruction of twenty German aircraft, fifteen of these during intruder operations in the three-month period in 1942.
After the war Kuttlewascher returned to Czechoslovakia, but came back to England when the Communists took control of his country. He became a Captain with British European Airways, dying in Cornwall aged 42.
In 2006 1 Squadron is still again carrying out intruder operations in aircraft designed by Sydney Camm!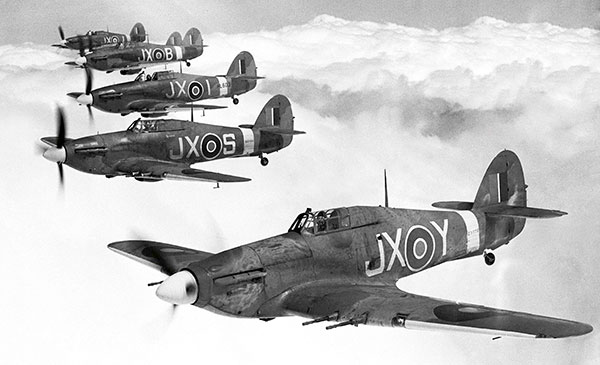 Scale 1:72    Wingspan 6.67″ (169 mm)
Base size 6.37″ (162 mm) square (No. 4)
Weight not including base 9 ozs (252 grams)   Limited edition of 100 only