English Electric Lightning F Mk 1A
English Electric Lightning F Mk 1A
111 Squadron     XM184    'A'
Sqn Ldr George Black,    RAF Wattisham 1964.
The 1957 Defence White Paper established an intention to place the defence of the United Kingdom against air attack in the hands of guided missiles; as a result the only manned interceptor fighter remaining in development was an armed version of the English Electric P.1, for which the Its origin was in a series of designs by the recently formed company for an aircraft for research in to the then unknown realm of supersonic flight. In April 1948 the Ministry of Supply issued Experimental Requirement ER.103, followed in November of that year by a contract for English Electric.
The layout which was to become familiar was largely settled very early in the design process under Chief Engineer W. E. W. Petter, with the sharply swept-back wing, two superimposed engines and low-mounted tailplane evident by the end of 1949. Two prototypes were built with the first, WG 760, flying in July 1954 from Boscombe Down in the hands of Roland Beamont and achieving supersonic speed on dry thrust on its fourth flight. In the early stages of the design there has been provision for a gun in either wing root, but this had been abandoned because of aerodynamic ill-effects; but when second prototype WG763 flew in July 1955, powered by Avons instead of Sapphires, there were mountings for cannon either side of the nose intake. In August 1953 a contract was placed for a development with a radome in the centre of the intake designated P.1B, with three prototypes to be followed by an order for twenty "pre-production" aircraft to facilitate and speed development of the definitive fighter.
The first order for fifty of the initial service version was placed in November 1956, and now officially named Lightning F Mk 1 XM165 was delivered to 74 Squadron at Coltishall in June 1960. The lack of range, a recurring feature of British fighters, had been realised early in the type's testing, and early production aircraft began appearing with an under-fuselage fuel tank which added an extra 250 gallons to the standard load; in spite of further increases the Lightning remained "short-legged" for all its career. An early modification introduced the ability to attach a flight-refuelling probe beneath the inner port wing, which resulted in the designation Lightning F Mk 1A and a slight visible difference in the length of the fairing along the lower fuselage. As well as the two cannon – sometime faired over – standard armament was a pair of Firestreak infra red homing missiles. The first delivery of an F.1a was to 56 Squadron at Wattisham in December 1960, with 111 Squadron at the same airfield receiving XM185 in March 1961 and fully re-equipped by August.
"Treble One" has been a fighter squadron for its entire life, starting in the Middle East with the Bristol Scout and M.1B in August 1917. It came to public attention in February 1938 when two months after receiving Hurricanes the CO Sq.Ldr. John Gillan flew from Edinburgh to Northolt at a speed of 404 mph, being known thereafter as "Downwind" Gillan. Receiving Spitfires in 1941 it was transferred to North Africa in May 1943, serving there and in Italy until 1947. Reforming with the Meteor F.8 at North Weald in December 1953 it received the Hunter F.4 in June 1955, with which it formed the "Black Arrows" aerobatic team.
Tim Ferguson made the first flight of XM184 from Salmesbury on 27 February 1961, and was it delivered to 111 Squadron from Warton by Flt Lt Ken Goodwin on 13 April. RAF policy was that supersonic aircraft should not be camouflaged, but the squadron's black and yellow lightning flash was applied to the nose and the cross, two swords and three seaxes from the squadron badge commemorating its time in Palestine and in Essex were marked on its fin; later the black and yellow were added to the vertical tail, the beginning of a very colourful period for the home-based Lightning squadrons. With 111's re-equipment with the Lightning F3 XM184 left the squadron on 1 January 1965, joining 226 OCU; it crashed on landing at Coltishall on 17 April 1967, with pilot Flt Lt Crumbie surviving. The aircraft was declared Cat.5, and having flown 1013 hours was struck off charge on 4 May.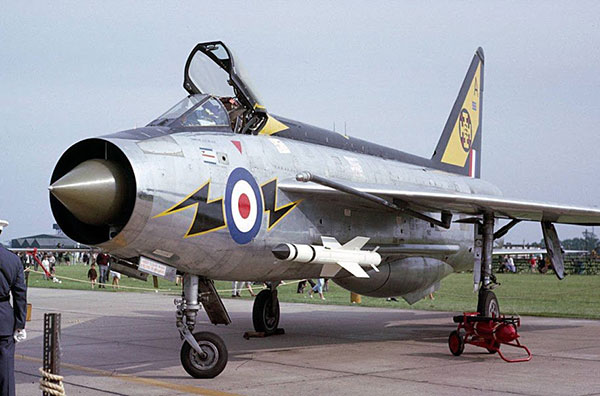 Scale 1:72    Wingspan 5.8″ (147.5 mm)
Base size 9.33″ (237 mm) square (No. 6) 
Weight not including base 1lb 9.3 ozs (717 grams)   
 Limited edition of 25 only
SOLD OUT