English Electric Lightning F Mk 3
English Electric Lightning F Mk 3
Lightning Training Flight     XR749    'DA'
Flt Lt M Hale,    RAF Binbrook,  October 1985.
The 1957 Defence White Paper established an intention to place the defence of the United Kingdom against air attack in the hands of guided missiles; as a result the only manned interceptor fighter remaining in development was an armed version of the English Electric P.1, the origin of was in a series of designs by the recently formed company for an aircraft for research in to the then unknown realm of supersonic flight. In April 1948 the Ministry of Supply issued Experimental Requirement ER.103, followed in November of that year by a contract for English Electric.
Its then layout was largely settled very early in the design process under Chief Engineer WEW Petter, with the sharply swept-back wing, two superimposed engines and low-mounted tailplane evident by the end of 1949. Two prototypes were built with the first, WG 760, flying in July 1954 from Boscombe Down in the hands of Roland Beamont and achieving supersonic speed on dry thrust on its fourth flight. In spite of its intended research role provision had been made for a gun in either wing root, but this was abandoned because of aerodynamic ill-effects; but when second prototype WG763 flew in July 1955, powered by Avons instead of Sapphires, there were mountings for cannon either side of the nose intake. In August 1953 a contract was placed for the P.1B, a development with a radome in the centre of the intake, with three prototypes to be followed by an order for twenty "pre-production" aircraft to facilitate and speed development of the definitive fighter.
The first order for fifty of the initial service version was placed in November 1956 and, now officially named Lightning F.1 XM165 was delivered to 74 Squadron at Coltishall in June 1960. The lack of range, a recurring feature of British fighters, had been realised early in the type's testing, and early production aircraft began appearing with an under-fuselage fuel tank which added an extra 250 gallons to the standard load; in spite of further increases the Lightning remained "short-legged" for all of its career. An early modification introduced the ability to attach a flight-refuelling probe beneath the inner port wing, which resulted in the designation F.1a and a slight visible difference in the length of the fairing along the lower fuselage. As well as the two cannon – though sometimes the ports were faired over – standard armament was a pair of Firestreak infra-red homing missiles. The necessary progressive development of the Lightning added variations in armament, shape and fuel capacity and, not necessarily in parallel, colours worn.
At the time of the Lightning's introduction to RAF service fighters were camouflaged with dark green and dark sea grey on the flying surfaces and fuselage, bit the Air Ministry decided that the finish for supersonic aircraft should be "natural metal finish" (NMF). This was enhanced with increasingly colourful squadron markings, often including coloured spines and fins; this reached its apogee with the large red and white checkerboards of 56 Squadron's F.3s, but these were to some extent toned down with the change to F.6s. The exceptions were the two RAF Germany squadrons, 19 and 92; their initial equipment was the F.2 in NMF but when these were replaced by the F.2a, which had the improved wing and underfuselage tank of the F.6, they were painted dark green on top as part of the "toning down" of RAF Germany airfields. The next change came with the stand-down of Fighter Command when it was absorbed in to Strike Command; the surviving UK Lightning squadrons, 5 and 11, received upper surfaces of dark green and dark sea grey and this in turn, following trials of alternative camouflage, gave way to shades of grey. This generally settled in to combinations of Camouflage (originally Barley) Grey and Medium Sea Grey, which was also seen on the last serving T.4 and T.5 trainers. By the end of the Lightning era the training task had diminished from an OCU to 'C' Flight of 11 Squadron; in November 1975 this became the Lightning Training Flight, with which XR749 served, until disbandment in April 1987.
The F.3 was often considered to be the "hot rod" of Lightnings; it introduced the Avon 301 with fully variable reheat, and retained the small underfuselage fuel tank of the earlier marks, which while doing nothing for the aircraft's endurance added nothing to its weight. The "final" F-6 mark had a bigger tank which added to the fuel capacity but meant that its initial rate of climb at least suffered a little. The F.3 continued in service until the Lightning was withdrawn to eke out the lives of the F.6s, in the back-up and training roles.
XR749 was one of the last F.3s to be built, and although work was started on the production line to upgrade her to an F.6 (interim) this was then reversed, and the first flight on 30 April 1965 was as an F.3; passing through the hands of 60 MU it was delivered to 56 Squadron in November 1967 coded Q, retaining this letter when transferred to 5 Squadron. In August 1982 it went to St.Athan for a respray, emerging in Barley/Light Aircraft Grey and being used briefly by the Lightning Augmentation Flight before joining 11 Squadron in December. Joining the Lightning Training Flight it was given a colourful scheme to mark that unit's tenth anniversary, with a blue spine and fin, and on the latter a large white disc with the unit's lion emblem in an equally bright blue, and the white code DA.
While with 11 Squadron it had carried the code BM, and it was in this form that Flt.Lt. Mike Hale flew it many times, remembering it as the best aircraft available to him. Together they were involved in several interesting sorties, not least the interception of a U-2 at 66,000 feet, an altitude believed to be safe; shortly before, he had taken it to 88.00' in a zoom climb. During an exchange visit of Danish Starfighters they took part in some unofficial time-to-height and acceleration trials in which the Lightning was the victor, except for a dead heat in the low-level supersonic acceleration. They also took part when British Airways offered a Concorde as a target while it was undertaking trials up and down the North Sea; the challenge was taken up by F-14s, F-15s, F-16s, F-104s and Mirages, but only the Lightning was able to overhaul it from behind as a "stern attack"!
After the end of its active service XR749 became a "gate guard" at Middleton St George, which had become Teeside Airport. In 2004 it was removed at re-erected in the same role at the Factory of Score plc at Peterhead in Aberdeenshire, a company that worked on Avon engines. It is reputed to be still there in 2017.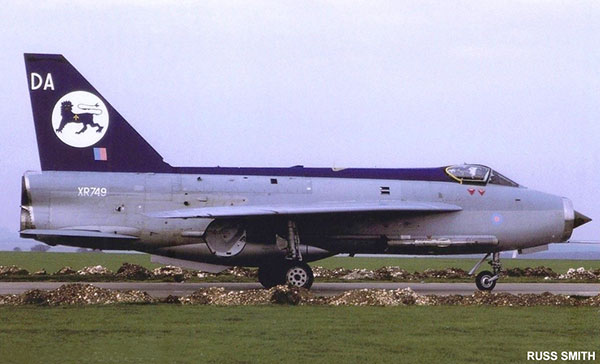 Scale 1:72    Wingspan 5.8″ (147.5 mm)
Base size 9.33″ (237 mm) square (No. 6) 
Weight not including base 1lb 9.3 ozs (717 grams)   
 Limited edition of 25 only
Price £179.00 plus delivery   Figures optional at £15 each.