de Havilland D.H. 88 Comet
de Havilland D.H. 88 Comet    G-ACSS   'Grosvenor House'  No 34
Piloted by C.W.A. Scott and T. Campbell Black.
The story of the de Havilland DH 88 Comet goes back to January 1934 with the announcement of the Melbourne Centenary Air Race. The race was to be from London to Melbourne with prize money totaling £15,000 offered by Sir MacPherson Robertson. It was thought that the Americans would easily win the race, but de Havilland were determined that British aviation should have a presence.
They decided with only ten months to go that an all new long-range racing plane was to be built providing sufficient orders could be found. The new aircraft was to be sold at £5,000 to customers who placed their orders before the end of February 1934 with de Havilland taking up any additional costs. De Havilland could not give away any technical details of the new aircraft just stating that 'a speed above 200mph was guaranteed'. Orders for three Comets were received before the deadline and the design and building program was commenced.
The new aircraft was to be powered by two de Havilland Gipsy six engines uprated to 225 hp giving a cruising speed of 225 mph with a range of 2900 miles. The design borrowed much from the D.H. 71 Tiger Moth Racer being a low winged monoplane with a small frontal area. The structure was to be all wood with a wooden stressed skin made up from diagonal planking. This design concept was to be later used in the de Havilland Albatross and more famously in the Mosquito. The closing date for race entries was June 1st 1934 with many race entries being left to the last month. The three D.H. 88 Comets were duly entered G-ACSS 'Grosvenor House', G-ACSP 'Black Magic', and G-ACSR.
Piloted by C.W.A. Scott and T.Campbell Black "Grosvenor House" left Mildenhall on October 20th 1934 to arrive first at Melbourne 70 hours 54 minutes and 18 seconds later taking the trophy, the £10,000 first prize, and winning both the speed and handicap races. This was only to be the beginning of a very eventful life for G-ACSS, it was to be renamed several times and flew in many guises after narrowly avoiding being scraped in 1936. But its racing career was not over, G-ACSS continued to win races and set records until 1938.
Possibly the greatest legacy of the D.H. 88 Comet is that it led directly to the development of the legendary Mosquito which was to become the most successful multi role aircraft of the Second World War.
Today G-ACSS has been restored to its original Melbourne air race "Grosvenor House" Scheme and can be seen as part of The Shuttleworth Collection at Old Warden.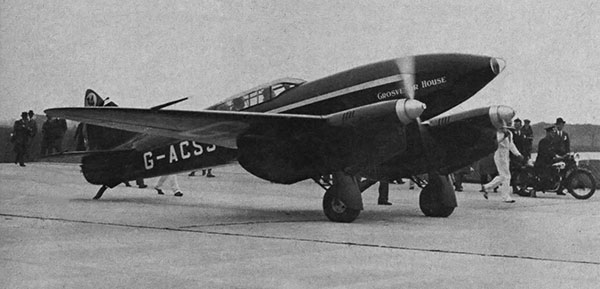 Scale 1:72    Wingspan 7.33″ (186.3 mm)
Base size 6.37″ (162 mm) square (No. 4)
Weight not including base 7.5 ozs (213 grams)