de Havilland D.H. 88 Comet
de Havilland D.H. 88 Comet    G-ACSP   'Black Magic'  No 63
Piloted by Jim and Amy Mollison.
The story of the de Havilland DH 88 Comet goes back to January 1934 with the announcement of the Melbourne Centenary Air Race. The race was to be from London to Melbourne with prize money totaling £15,000 offered by Sir MacPherson Robertson. It was thought that the Americans would easily win the race, but de Havilland were determined that British aviation should have a presence.
They decided with only ten months to go that an all new long-range racing plane was to be built providing sufficient orders could be found. The new aircraft was to be sold at £5,000 to customers who placed their orders before the end of February 1934 with de Havilland taking up any additional costs. De Havilland could not give away any technical details of the new aircraft just stating that 'a speed above 200mph was guaranteed'. Orders for three Comets were received before the deadline and the design and building program was commenced.
The new aircraft was to be powered by two de Havilland Gipsy six engines uprated to 225 hp giving a cruising speed of 225 mph with a range of 2900 miles. The design borrowed much from the D.H. 71 Tiger Moth Racer being a low winged monoplane with a small frontal area. The structure was to be all wood with a wooden stressed skin made up from diagonal planking. This design concept was to be later used in the de Havilland Albatross and more famously in the Mosquito. The closing date for race entries was June 1st 1934 with many race entries being left to the last month. The three D.H. 88 Comets were duly entered G-ACSS 'Grosvenor House', G-ACSP 'Black Magic', and G-ACSR. G-ACSP 'Black Magic' was to be flown by Jim and Amy Mollison, and bore the racing number 63 on the tail together with the national flag. Jim Mollison was a commercial airline pilot who had set several aviation records. On one commercial flight he met the famous aviatrix Amy Johnson, proposing to her eight hours later while they were still in the air. They were married in July 1932 and dubbed 'The Flying Sweethearts' by the press and public.
At daybreak on October 20th 1934 the race began with 20 aircraft taking off from Mildenhall. The three Comets made good starts with 'Black Magic' well in the lead, arriving ahead of the field at Baghdad flying non-stop on the 2,530 mile leg in a time of 12 hours 40 minutes. They then pushed on to Karachi, Jubbulpore and Allahabad but were forced to retire with piston trouble after being supplied with unsuitable fuel. The race would be won by one of the sister aircraft G-ACSS 'Grosvenor House'.
After the race 'Black Magic' was sold to the Portuguese Government who were looking for an aircraft to carry out long distance mail flights. She was re-registered as CS-AAJ and named 'Salazar'. In 1937 after being flown back to Hatfield for an overhaul the aircraft that once carried the hopes of a nation disappeared feared gone forever.
However some decades later 'Black Magic' was rediscovered in a Portuguese farm and after changing hands several times is now back in the Britain undergoing a full restoration to flying condition by the Comet Racer Project Group based at Derby. Their progress on this amazing restoration project can be seen at www.cometracer.co.uk.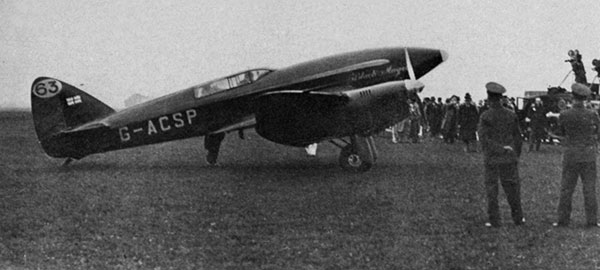 Scale 1:72    Wingspan 7.33″ (186.3 mm)
Base size 6.37″ (162 mm) square (No. 4)
Weight not including base 7.5 ozs (213 grams)
Price £82.00 plus delivery