Handley Page Halifax Mk II
Handley Page Halifax Mk II    DT543   NF-G
138 Squadron, Special Operations Executive, RAF Tempsford.
The role of the Special Operations Executive (S.O.E.) in World War II can never be overstated. Agents droped into occupied France not only provided assistance to the members of the French resistance but would relay vital inteligence back to London to allow more strategic attacks on enemy forces.
Based at RAF Tempsford 138 Squadron together with 161 Squadron were responsible for transporting and supplying SOE agents into occupied France. On the 25th of August 1941 No 1419 (Special Duties) Flight at Newmarket became 138 Squadron. Its main task was maintaining communications with resistance movements in occupied Europe. Whitleys dropped arms, supplies and agents while Lysanders made landings in enemy occupied territory to deliver and pick-up agents, the first successful pick-up taking place in February 1942. On many supply flights bombs were carried for attacks on communications targets as cover for their clandestine operations. In October 1942 Halifax Mk IIs replaced Whitleys, the pick-up task being taken over by 161 Squadron.
Agents and equipment were dropped from an altitude of only 400 feet. Whether the agents were male or female they were all to be known only as 'Joes'. The mid-upper gunner was specially trained as a dispatcher responsible for the 'Joes' and had no contact with any other RAF personnel.
Handley Page Halifax Mk IIs of 138 Squadron were modified in many ways to suit their new SOE role. The mid upper turret was removed and a paratroop drop or 'Joe hole' was fitted behind the bomb bay, to prevent agents getting 'hung-up' on the tailwheel deflector guards were installed. Later Halifaxes also had the front turret removed. To allow supplies to be dropped special cannisters were designed to be dropped from the bomb bay, these contained a parachute to minimise damage to the contents on landing.
After the war 138 Squadron operated Avro Lincolns before being disbanded in September 1950.
On the 1st of January 1955 138 Squadron reformed at Gaydon as the first Vickers Valiant squadron. In October 1956 it took these to Malta during the Suez landings and on the 1st of April 1962 the squadron was disbanded.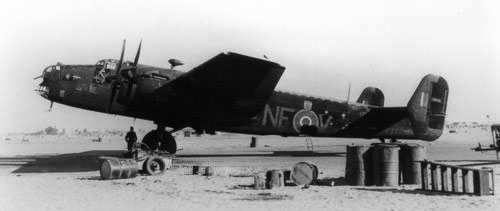 Scale 1:144     Wingspan 8.22″ (208 mm)
Base size 7.71″ (196 mm) square (No. 5)
Weight not including base 14.5 ozs (406 grams)   Limited edition of 100 only