Armstrong Whitworth Whitley Mk V
Armstrong Whitworth Whitley Mk V  MH-K  P5105
51 Squadron, Wing Commander J.B. Tait DFC, Malta, 'Operation Colossus'.
In the summer of 1940, it was suggested to the Air Ministry that an attack should be carried out on the Italian aqueduct system. This network supplied fresh water to the arid areas of southern Italy and principally the ports of Bari, Brindisi, and Taranto, which were being used to transport troops to North Africa.
A study showed that a bomber assault was not possible with the aircraft of the time and that a sea borne raid was also not viable, but the use of paratroops could be successful. No.11 battalion of the newly formed Special Air Service was to be tasked with the destruction of the huge aqueduct spanning the river Tragino in the province of Campagna.
Selected Whitley Mk Vs and their crews were taken from 51 and 78 squadrons, and were placed under the command of Wing Commander 'Willie' Tait DFC. On the 7th of February the eight Whitleys and their cargo of SAS volunteers, now designated 'X' Troop, left RAF Mildenhall for their eleven hour flight to Luqa, in Malta, from where they would launch 'Operation Colossus'.
Six Whitley Mk Vs took off on the evening of February 10th for Italy, each carrying six paratroops with their supply containers secured within the bomb bays. Two of the Whitleys also carried 250lb bombs to make a diversionary raid on the marshalling yards at Foggia, thirty miles from the main target. However, things would soon go wrong as an aircraft carrying some of the sappers had its bomb racks ice up, depriving them of their explosives. An aircraft was also lost due to engine failure. Its crew bailed out, but the aircraft crashed near 'X' Troop's rendezvous point with HMS Triumph, resulting in the cancellation of the submarine. Lacking sufficient explosives, 'X' Troop could only damage one end of the viaduct. Unaware of the cancellation of HMS Triumph, the whole party were eventually captured and spent the rest of the war as POWs.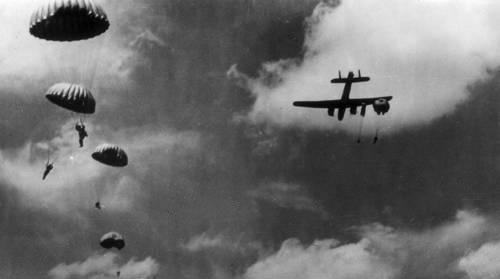 Scale 1:144     Wingspan 7″ (178 mm)
Base size 12.28″ x 8.8″ (312mm x 225mm) (No. 14) 
Weight not including base 12.5 ozs (352 grams)
Limited edition of 100 only    Total number of models produced 100