'Galland's Zirkus'
Fw190D-9 'Red13'   Fw190D-9 'Red 1'   Me262A-1a 'White 3'
Jagdverband 44,  Ainring,  Spring 1945.
Jagdverband 44 or JV 44 as it was known was formed in February 1945 by Generaleutnant Adolf Galland and flew the Messerschmitt Me262A-1a. This new unit became known as 'Galland's Zirkus' (Galland's Circus) and was formed of sixty one pilots, many of whom Galland trusted and had personally selected.
The Me262 was known to be vulnerable to attack during take off and landing, Galland had seen Focke Wulf Fw190Ds of III./JG 54 provide top cover for Kommando Nowotny (the first Me262 unit) and decided that an airfield protection flight should be formed for JV44. To prevent freindly fire incidents the underside of all the Fw190D-9s were painted red with narrow white stripes making them more visible to antiaircraft batteries and recognisable to the Me262 pilots.
Initially JV44 was based at Munchen-Riem but when it was heavily bombed they moved to Ainring airfield located in the southern German Alps. Ainring was only twelve miles from Berchtesgarten and was used by Hitler and Goering when visiting the Berghof. Built as a civil airfield in 1933 Ainring was a base for the German Institute for Gliding (DFS) and had a wide variety of aircraft ranging from transports to helicopters. In early May Ainring was discovered by Americans of the 414th AFA Bn, soon the war would be over
Focke Wulf Fw190D-9 'Red 1' of Lt. Heinz "Heino" Sachsenburg
Red 1 bares the inscription 'Verkaaft's mei Gwand 'I foahr in himmel!' on the side of the fuselage which translates as 'Sell my clothes I'm going to heaven!'. It's pilot Lt Heinz Sachsenburg held the Knight's Cross and had flown previously with 6./JG 52. With 104 victories and over 500 missions he was one of the most experienced pilots and was chosen to be the leader of the Platzschutszstaffel (field protection flight) even though he did not hold the highest rank. The pilots under his command were known as the 'Sachsenburg Schwarm'.
Focke Wulf Fw190D-9 'Red 13' of Oblt. Klaus Faber
Red 13 was flown by Oblt Klaus Faber also carried an inscription, it reads 'Rein muss err und wenn wir beide weinen', which means 'In he goes even though both of us will cry!'. Faber had flown with JG 27 in North Africa, JG 5, and JG 6, he specialized in long distance navigation and was an experienced instructor.
Messerschmitt Me262A-1a 'White 3' of Generaleutnant Adolf Galland
Adolf Galland was a definite fan of the Messerschmitt Me 262A-1a describing his first flight in the aircraft as 'being carried along by angels', it was a truly groundbreaking aircraft and was the world's first operational jet fighter. Had Hitler not interfered with its design in deciding it should be capable of a bombing role it could have entered service earlier and may have altered the outcome of the war. It is widely believed that this was the last aircraft Adolf Galland until being wounded and handing over command of JV44 over to Heinz Bar.
Source : Doras of the Galland Circus by Eagle Editions Ltd ISBN 0-9660706-2-3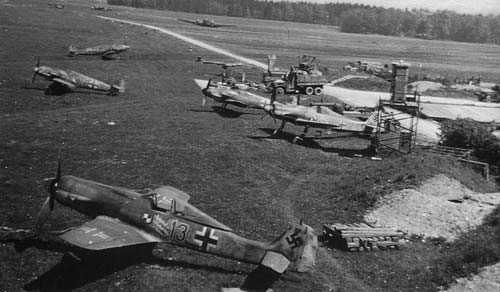 Scale 1:72    Base size 23.5″ x 14.5″ (600mm x 370mm)
Limited Edition of 50 only
SOLD OUT