Westland Whirlwind Mk I
Westland Whirlwind Mk I,   P7102   SF-P   'Comrades In Arms',
137 Squadron,   Plt.Off. Eddie Musgrave,   RAF Manston,  1942.
The Westland Whirlwind Mk I was designed to the Air Ministry specification F.35/37, which required the provision of four 20 mm. cannon, and mounting them in the aircraft's nose to concentrate the firepower resulted in the twin-engined layout. Unfortunately the Rolls-Royce Peregrine engine was not capable of progressive development and increased performance, and this limited the production of the aircraft, only 116 being built at Westland's Yeovil factory. The Whirlwind Mk I entered service with 263 Squadron in June 1940, but was not considered sufficiently ready to take part in the Battle of Britain.
137 Squadron was the only other Whirlwind unit, forming at Charmy Down in September 1941, and both squadrons were involved in low-level offensive operations over the English Channel and Northern France, where the type's heavy cannon armament was particularly useful. From July 1942 racks for 500 lb. bombs could be fitted under each wing. The last operational Whirlwind sortie was flown by 263 Squadron on 29 November 1943, the squadron re-equipping with Typhoons; after a short period with Hurricane Mk IVs 137 Squadron also flew Typhoons, and the ground-attack tactics evolved by these two squadrons with the Whirlwind must have led to those used on the Hawker fighters following D-Day. No less than eleven Whirlwind Mk Is were presentation aircraft, paid for by private subscription or collection. P7102 carried the name "Comrades in Arms" and was given by Mr.& Mrs. Ellis of Fiji; it is in the markings of 137 Squadron, with which unit it was flown by Plt.Off. Eddie Musgrave.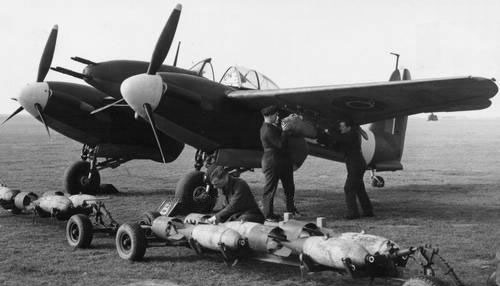 Scale 1:72    Wingspan 7.5″ (190.5 mm)
Base size 7.71″ (196 mm) square (No. 5)
Weight not including base 10 ozs (286 grams)