Supermarine Spitfire Mk VIII
Supermarine Spitfire Mk VIII    LV729   ZX-M
No 145 Squadron, Sqn Ldr G.R.S. McKay, Bellaria, Italy, 1944.
The Spitfire Mk VIII is often overlooked in favour of its more numerous sibling the Spitfire Mk IX, but it was in fact a very significant aircraft. During World War II technology was advancing rapidly on both sides and reports were coming back from pilots of a new Luftwaffe radial engined fighter – the Fw190. Development of the Supermarine Spitfire had been continuous and it was decided to produce an unpressurised version of the Spitfire Mk VII to meet this new threat. The Spitfire Mk VIII retained many aspects of the Mk VII; the enlarged rudder, retractable tailwheel, and two stage supercharged Merlin engine. With the more conventional elliptical wing fitted with short span elevators the Spitfire Mk VIII could take on the Fw190. Improvement to the Mk VIII was continous, modifications and lessons learnt were carried on to the production of the highly successful Spitfire Mk IX.
1,658 Spitfire Mk VIIIs were produced and served with thirty squadrons, mainly in the Middle and Far East theatres.
LV729 was issued to 145 Squadron and coded ZX-M. Based in Bellaria, Italy 145 Squadron had fought in North Africa before moving on to Malta and Sicily following the allied assault on Italy. Flown by Sqn Ldr G.R.S. McKay ZX-M was mainly used in a ground attack role and was eventually replaced by MT928 (another Spitfire Mk VIII) also coded ZX-M. LV729 remained with the squadron but failed to return on the 8th of April 1945.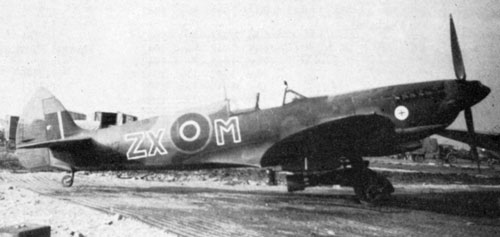 Scale 1:72    Wingspan 6.25″ (156 mm)
Base size 6.37″ (162 mm) square (No. 4)
Weight not including base 6.75 ozs (190 grams)   Limited edition of 100 only