Republic P-47D Thunderbolt
Republic P-47D Thunderbolt    4K-R    226465   'RAE'
Major Hal Shook, CO 506th F.S. 404th F.G. 9th AF ,Winkton, D-Day 1944.
This P-47 Thunderbolt was flown by Major Hal Shook prior to and throughout the days after D-Day, what follows is his account of several of his actions.
In the summer of 1944, we were flying near the Seine River, trying to stop the German Army from crossing over and regrouping on the other side. Crossing points along the river were under constant aerial attack and were heavily defended with anti aircraft guns. Approaching the river, we ran into heavy flak, ugly black puffs of smoke so thick it looked like you could walk on it. We were dodging and changing altitude trying to outguess the gunners, when we saw five barges on the water, 10,000 feet below. They were heavily loaded with enemy equipment and troops.
As I rolled into my dive bomb run, almost straight down, my P47 Thunderbolt shuddered as heavy shrapnel slammed into the propeller and engine. Oil streamed out to cover my windscreen and the engine rpms screamed up to 50% above redline, something not even the P-47 was built to withstand. If I stayed in the dive, would I ever come out of it ?
"You have no option" I said to myself, "you've got to do it"! I had the target perfectly lined up and couldn't quit now. At that moment it was my total focus in life. Punching off my bombs at the last minute, I got direct hits with both. Bobbing and Jigging from side to side, and with oil still blowing back. I pulled up and away from the river and the flak. Miraculously, the engine was still running. It carried me to an emergency landing strip in Normandy.
We needed to come in low in order to hit the target, and with so many people shooting at us, it would have been suicidal to fly straight and level. If you did that, you were gone. We had to keep changing altitude and turning in order to avoid enemy fire. It was quite a task, trying to hold a map on my lap and keep track of our position while the plane corkscrewed around in die air and tracers were steaming up from the ground. I was incredibly busy and I got a little punchy. Even though you kept jinking around in the sky to avoid being hit, still you got hit.
On one mission over the Falaise Gap I was weaving towards our target when the map I was studying was wacked violently off my knee and thrown to the floor of the cockpit. A bullet had come in though the side of my bird, missing my leg by inches. Fortunately I was over the target, so I dropped my bombs and completed my strafing run before I was hit again on the way out. This time the bullet came from behind, penetrated the firewall between me and the engine and smashed into the carburettor.
All of a sudden I had no control of the throttle. I could push and pull on it, but nothing happened. The engine's power was jammed at 32 inches of mercury, (a measurement of engine pressure). At full power, which I needed in order to pull up from the bombing run and escape the enemy ground fire, I should have had 52 inches. Flying at a little more than half power I could neither increase or reduce my speed.
I would be easy prey for enemy fighter, so other members of the squadron gave me top cover as I headed for home at a very low speed, maybe 200 mph. Since it was impossible to climb I maintained a low level flight back to our airbase in Normandy. When I was over the field I cut my engine of with the mixture control, made a 360 degree approach and glided down to a dead-stick landing. Major Shook's bubble canopy P-47 Thunderbolt went into combat on June 16th 1944 The aircraft flew 173 operational hours dropped 34 tons of bombs and fired 21000 rounds of 50 caliber ammunition. Among its accomplishments it destroyed or damaged 22 railroad cars and five locomotives, two enemy aircraft, 12 tanks and three armored vehicles, five gun positions, one railway roundhouse, two factories, four river boats, four bridges two fuel dumps and one radar station. Hit hard by flak while diving on a convoy of German trucks during the Battle of the Bulge the Thunderbolt struggled back 30 miles inside the U S lines before it finally crashed.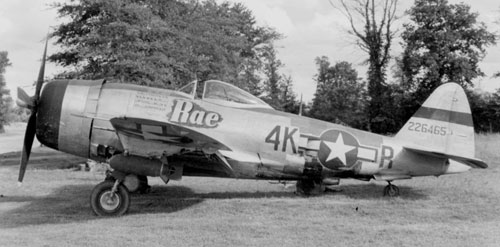 Scale 1:72    Wingspan 6.8″ (172.6 mm)
Base size 7.71″ (196 mm) square (No. 5)
Weight not including base 13 ozs (367 grams)
Limited edition of 100    Total number of models produced 100