Republic P-47D Thunderbolt
Republic P-47D Thunderbolt    42-7877 JACKSON COUNTY. MICHIGAN FIGHTER / IN THE MOOD
61st F.S. 56th F.G. Capt Gerald Johnson, Halesworth, October 1943
Captain Gerald Johnson, Gerry, to his friends in the 61st Fighter Squadron, came from Owenton in Kentucky. He originally served with the 61st Fighter Squadron, 56th Fighter Wing, becoming the 56th Fighter Wing's first ace. Then he moved over briefly to the newly formed 360th Fighter Squadron, 356th Fighter Group, from November 1943 to February 1944, in order to share his experience with the new pilots, flying ten missions with them. Promoted to Major, he then moved back to the 56th Fighter Wing on February 19th, 1944, as Commanding Officer of the 63rd Fighter Squadron. During all of this time he flew P47D Thunderbolts.
His aircraft with the 61st Fighter Squadron was Thunderbolt P47D-1-RE, Serial no 42-7877, Squadron code HV-D, carried the nose art "In the Mood'. It also carried the presentation message on the port side "Jackson County, Michigan, Fighter". When he moved over to the 63rd Fighter Squadron, his Thunderbolt P47D-15-RE serial number was 42-76249, Squadron code, UN-V.
He flew 88 missions, with 196 total flying hours. His crew chief was Staff Sergeant George S. Baltimore As a Major, he was shot down by flak near Carentan, on the 27th of March 1944, and spent the rest of the war as a prisoner of war. He stayed in the Air Force post war, taking over as commander of the 62nd Fighter Squadron and as Lieutenant Colonel in July 1946, now part of the 15th Air Force. The Squadron converted to P-51H Mustangs and was shipped to Alaska for cold weather trials. Lt. Col. Johnson returned his squadron back to Selfridge Field in April 1947 to learn that he had been given command of a wing, the 82nd Fighter Group, operational on June 2nd. He later commanded the 31st Fighter Wing, and eventually the entire 8th Air Force in Vietnam. He was credited with shooting down 16.5 enemy aircraft in World War II.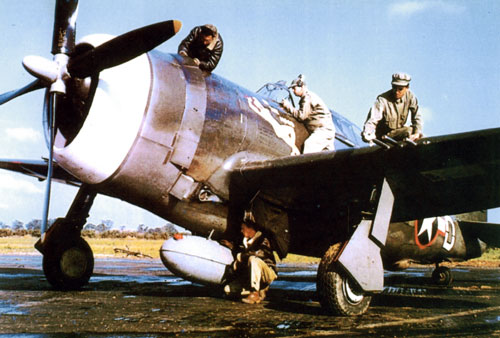 Scale 1:72    Wingspan 6.8″ (172.6 mm)
Base size 7.71″ (196 mm) square (No. 5)
Weight not including base 13 ozs (367 grams)
Total number of models produced 89