North American P-1D Mustang
North American P-51D Mustang    L2-W    44-72922    'SCAT VII'
434th F. S. 479th F. G. Major Robin Olds, February / March 1945.
Declaring the P-51D to be the best fighter he had flown, Chuck Yeager said "the Mustang would do for eight hours what the Spitfire would do for forty-five minutes".
The Mustang probably is the best fighter of all time; and it came about because North American Aviation, when asked to build the Curtiss P-40 under licence for the Royal Air Force, offered to produce something better themselves in one hundred and twenty days. The resulting NA-73, with its ground-breaking laminar wing, was initially powered by an Allison engine; but what transformed it in to the ultimate fighter was the adoption of the Rolls-Royce Merlin. In its final form this enabled the Mustang, in its most recognisable P-51D form with the "bubble" canopy for improved visibility, to reach Berlin from Britain and Tokyo from island bases in the Pacific. It filled the roles of interceptor, bomber escort, ground attack and reconnaissance, and was still in action in the early '50s in the Korean conflict; and today it's probably the most numerous flying "warbird".
Robin Olds had an even longer flying career! He scored nine aerial victories in the P-38, the highest scoring Lightning ace in Europe, flying from Wattisham with the 479th FG, and four more in the air with the Mustang when the Group re-equipped, as well as eleven aircraft destroyed on the ground. The squadron's identifying red rudder on the Mustang was a carry-over from their P-38s. Olds' aircraft were all called "Scat", successively-numbered with VII being his final Mustang; and in the Vietnam conflict, where he led the "Wolfpack" 8th Tactical Fighter Wing, he scored four more victories, over MiGs, and flew an F-4C Phantom marked "Scat XXVII".
Robin Olds was widely regarded as an excellent Wing Commander, and an inspiring leader; his long career included a time as the first non-Briton commanding No.l Squadron RAF, then (1949) flying the Gloster Meteor F.4.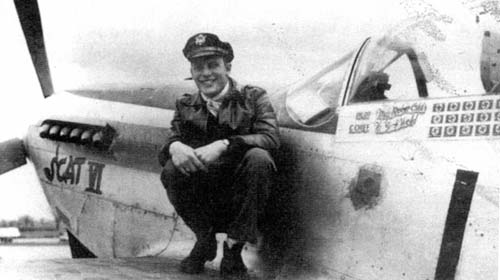 Scale 1:72    Wingspan 6.17″ (156 mm)
Base size 6.37″ (162 mm) square (No. 4)
Weight not including base 8.75 ozs (247 grams)
Total number of models produced 71