North American P-1D Mustang
North American P-51D Mustang    QI-T   44-15152   'JERSEY JERK'
361st F. S. 356th F. G. Major Don Strait CO, December 1944 / January 1945.
Declaring the P-51D to be the best fighter he had flown, Chuck Yeager said "the Mustang would do for eight hours what the Spitfire would do for forty-five minutes".
The Mustang probably is the best fighter of all time; and it came about because North American Aviation, when asked to build the Curtiss P-40 under licence for the Royal Air Force, offered to produce something better themselves in one hundred and twenty days. The resulting NA-73, with its ground-breaking laminar wing, was initially powered by an Allison engine; but what transformed it in to the ultimate fighter was the adoption of the Rolls-Royce Merlin. In its final form this enabled the Mustang, in its most recognisable P-51D form with the "bubble" canopy for improved visibility, to reach Berlin from Britain and Tokyo from island bases in the Pacific. It filled the roles of interceptor, bomber escort, ground attack and reconnaissance, and was still in action in the early V50s in the Korean conflict; and today it's probably the most numerous flying "warbird".
Known as a "hard luck" group, with the worst loss/kill ratio of any in the Eighth Air Force, the 356th FG exchanged its P-47Ds for Mustangs in November 1944, applying the highly decorative group markings of a red cowling with multiple blue diamonds. Those of the 351st squadron were distinguished by red rudders, and it was this unit of which Major Don Strait was the CO at the end of 1944. He scored 13.5 air-to-air victories, of which 10.5 were in the Mustang; and the last three of these were Fieseler Storches.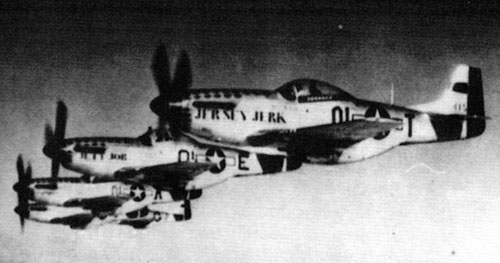 Scale 1:72    Wingspan 6.17″ (156 mm)
Base size 6.37″ (162 mm) square (No. 4)
Weight not including base 8.75 ozs (247 grams)
Total number of models produced 68