Messerschmitt Bf 109G-6/R6
Messerschmitt Bf 109G-6/R6   'Red 13'   Wrk Nr 27169   11./JG 27,
Obfw. Heinrich Bartels, Kalamaki, Greece, October 1943.
The Messerschmitt Bf 109 was the subject of continuous development from its introduction to combat with the Condor Legion in the Spanish Civil War until the fall of the Third Reich in 1945. The Bf 109G differed from the Bf 109F in being fitted with the Daimler-Benz DB605A engine of 1475 h.p., and had one engine-mounted 20 mm. cannon and a pair of 13 mm. machine guns in the nose; the G-6, which became the "standard" G-model (Gustav), added to these two more 20 mm cannon in underwing housings (the R6 modification). Jagdgeschwader 27 "Afrika" was transferred to the Mediterranean theatre in April 1941, where it served until 1944; it then returned through the Balkans to Vienna, where it took part in the defence of the Reich. "Red 13" was a G-6 (trop.) with the tropical filter evident on the left of the nose. The white rudder and fuselage band were "North Africa" identification markings. The aircraft was that of Obfw. Heinrich Bartels, carrying the name "Marga" under the windscreen and with the rudder marked with 56 victories and the insignia of his Knight's Cross, which he was awarded after his 45th victory. He was lost in action over Germany in December 1944 with 99 victories to his name.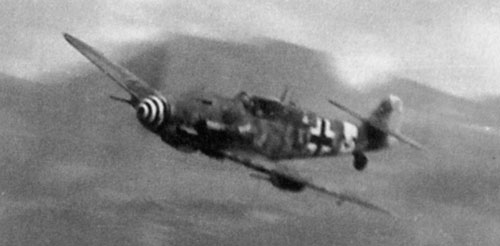 Scale 1:72    Wingspan 5.41″ (137.5 mm)
Base size 6.37″ (162 mm) square (No. 4)
Weight not including base 5.5 ozs (153 grams)