Hawker Hurricane Prototype
Hawker F.36/34 'Hurricane' Prototype    K5083
RAF Hendon 1937.
The Hawker Hurricane prototype design was a logical development of Hawker's Fury biplane interceptor; its embryo was conceived as the "Fury monoplane", with very recognisable common elements, particularly in its structure of a steel tube frame with fabric covering, which came in to its own when battle damage needed to be repaired in 1940. The specification that led both to the Hurricane and to the Supermarine Spitfire was F.5/34, which called for a four-gun interceptor powered by the new Rolls-Royce PV.12 engine (later to be named the Merlin), and the proposed solution from both companies led to a further individual specification tailored to each design.
The Hurricane prototype K5083 – the first of 12,711 to be built in Britain – was ordered on 12 February 1935, and made its first flight in the hands of George Bulman on 6 November of that year. During the aircraft's testing and evaluation, largely at Martlesham Heath, some changes were made, notably the removal of the lower covering plates on the main undercarriage legs, but it retained the retractable tailwheel, although this was replaced by a fixed item on production aircraft. K5083 was allocated to ground instructional duties with the serial 1211M in May 1939, but it was reputed to have remained airworthy with Hawkers into 1942. The aircraft is shown as it appeared at the RAF Display at Hendon in 1937.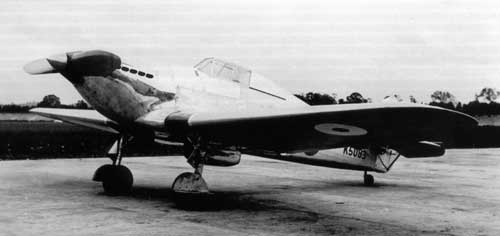 Scale 1:72    Wingspan 6.67″ (169 mm)
Base size 6.37″ (162 mm) square (No. 4)
Weight not including base 9 ozs (252 grams)   Limited edition of 100 only