Hawker Hurricane Mk IIB
Hawker Hurricane Mk IIB   '01'   Z5252,  Major-General A A Kuznetsov Commanding Officer Naval Air Forces,
Soviet Northern Fleet,  Vaenga,  1942.
With Soviet Russia an ally of Great Britain following the German invasion in June 1941 war material was sent to her aid, probably the best-known British contribution in the early stages being the despatch of an entire Hurricane wing. No. 151 Wing, composed of Nos. 81 and 134 squadrons took a mixture of Hurricane Mk IIAs and Mk IIBs with pilots and ground crew. With twenty-four aircraft assembled and ready to fly and the remaining fifteen in crates. Their operational task was to give air cover to the northern Russian ports that received the convoys, before training the Russians in their use and the repatriation of the RAF personnel. Z5252 had been built by Glosters as a Hawker Hurricane Mk IIB, this mark carrying twelve Browning machine guns, and was one of those that arrived crated. It had been built with a "tropical" filter which it retained in its new Arctic environment. It was assembled at Keg-Ostrov, a mile from Archangel, and with others of the same batch was flown in September to Vaenga, where it was kept as a reserve aircraft.
On the 25th of September Major-General A A Kuznetsov, an experienced pilot who was Commanding Officer Naval Air Forces, Soviet Northern Fleet, arrived to test fly a Hurricane, and was presented with Hawker Hurricane Mk IIB Z5252 as his personal aircraft, the British markings being replaced with red stars, and the identifying number '01' painted on the fuselage.
The remaining Hurricane Mk IIs were handed over to the Soviet Air Force on the 20th of October, where they equipped 78 IAP. Z5252 failed to return from a mission on the 2nd of June 1942, but it has been recently recovered from a lake, and the fascinating story of the aircraft and this operation is told on the website noted below.
www.lend-lease.airforce.ru/english/articles/sheppard/hurricane.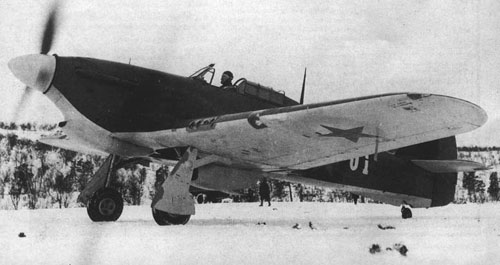 Scale 1:72    Wingspan 5.41″ (137.5 mm)
Base size 6.37″ (162 mm) square (No. 4)
Weight not including base 5.5 ozs (153 grams)   Limited edition of 100 only