Gloster E.28/39
Gloster E.28/39    W4041/G Prototype
Farnborough 1944
The Gloster E.28/39, (also referred to as the "Gloster Whittle", "Gloster Pioneer", or "Gloster G.40") was the first jet engined aircraft to fly in the United Kingdom. Developed to test the new Whittle jet engine in flight, the test results would influence the development of the Gloster Meteor.
In September 1939, the Air Ministry issued a specification to Gloster for an aircraft to test one of Frank Whittle's turbojet designs in flight. Working closely with Whittle, Gloster's chief designer George Carter laid out a small low-wing aircraft of conventional configuration. A contract for two prototypes was signed by the Air Ministry on 3 February 1940 and the first of these was completed by April 1941. On the 15th of May 1941, Gloster's chief test pilot, Flight Lieutenant Gerry Sayer flew the aircraft under jet power for the first time from RAF Cranwell, near Sleaford in Lincolnshire. The flight lasted 17 minutes and was a complete success. The E.28/39 was then transfered to Farnborough were additional finlets were added to the tail and it was repainted with ocean grey/dark green camouflage.
The E.28/39 name comes from the aircraft having been built to the 28th "Experimental" specification issued by the Air Ministry in 1939.
In 1946, the first prototype (Serial W4041) was placed in the British Science Museum (London), where it is still exhibited, although in a scheme which it never flew in.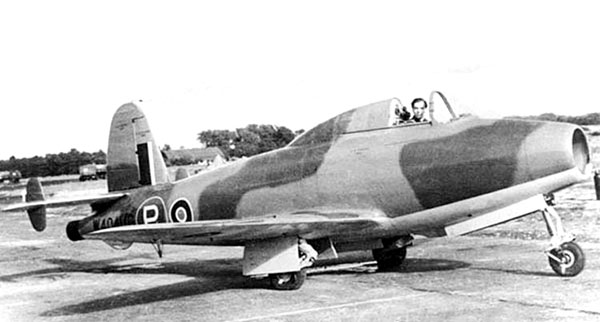 Scale 1:72    Wingspan 4.83″ (123 mm)
Base size 4.84″ (123 mm) square (No. 3)
Weight not including base 7 ozs (195 grams)    Limited edition of 50 only