Focke Wulf Fw 190D-9
Focke Wulf Fw 190D-9     <II+    Wk Nr 210194
I./JG 2, Fw Werner Hohenburg, Operation Bodenplate, New years day 1945.
Operation Bodenplate was the last large scale offensive operation of the Luftwaffe in the second world war. From then onwards they would fight to defend Germany. Six months after D-Day the Third Reich had gathered their forces, and together with the so-called wonder weapons they would begin their counter offensive resulting in the Battle of the Bulge. Operation Bodenplate was part of this strategy.
Fw Werner Hohenburg was one of many pilots to take part in the operation, he flew as part of the Stabsschwarm of Hptm. Hrdicka. The objective of Bodenplate was to destroy as many allied airfields and aircraft as possible with co-ordinated surprise attacks. However the allies were not entirely unprepared for an attack. Airfields were heavily defended with anti aircraft guns of all calibres and allied piolts were quick to react to the sound of axis aircraft.
Soon after Hohenburg had begun his second attack on enemy aircraft based at Saint Trond he was hit in the tail by flak, noting enemy fighters over the airfield he decided to head back to base but it was too late, his aircraft was hit again, this time the engine shut down and he was forced down. He had seen some meadows with fences and tried to use the them to slow down but ultimately his aircraft slid through the winter snow and came to rest in an American anti aircraft position. Hohenburg was captured and became a prisoner of war.
He had been shot down by 'B' Battery of the 430th AAA Battalion and had crashed at 9.35AM near the village of Dorff only a few kilometers south of Stollberg.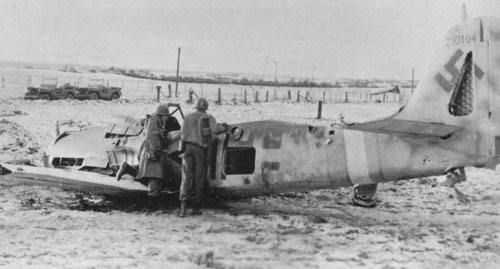 Scale 1:72    Wingspan 5.41″ (137.5 mm)
Base size 6.37″ (162 mm) square (No. 4)
Weight not including base 5.5 ozs (153 grams)