de Havilland Mosquito Mk IX
de Havilland Mosquito Mk IX    LR503    GB-F
Bourn, England June 1944  /  Calgary, Alberta May 1945.
By necessity most early warplanes were multi-role combat aircraft long before the expression became common usage, and this versatility subsequently became a formal requirement, the epitome in the 1930s being Hawker's Hart series under its various names; but surely the aircraft that merited this description more than any other was the de Havilland Mosquito. Its origin was in a design for a high-speed unarmed bomber based on the company's experience with the Albatross airliner, drafted at Salisbury Hall and submitted to the Air Ministry by de Havilland in the autumn of 1938 but, with the emphasis then being placed on a large force of bigger bombers with a substantial war load, rejected.
A year later the project was revived and specification 1/40/DH was issued on 15 March 1940 for a "de Havilland Light Reconnaissance Bomber"; prototype W4050/G made its first flight on 25 November. Three basic variants were developed, the B.Mk.IV entering service with 105 Squadron at Swanton Morley in November 1941 with four of their aircraft carrying out the Mosquito's first operation, a daylight raid on Cologne on 21 May 1942. The type became well-known to the public through well-publicised dramatic operations such as the destruction of the Gestapo HQ in Oslo and the raid on the prison at Amiens, these and others becoming the stuff of legend. A change to more powerful engines, the Merlin 71 of 1,680 hp, resulted in the higher-flying de Havilland Mosquito Mk IX of which around fifty were built, all at de Havilland's parent factory at Hatfield and used principally on the new "pathfinder" operations.
The Mosquito's "wooden sandwich" construction facilitated its manufacture not only in Britain, using hitherto untapped reserves of labour, but also overseas; Australia built 212, and Canada 1,032. As the Canadian line neared the completion of its 750th the occasion was to be marked by a ceremony which would start the fifth Canadian Victory War Bond campaign, with film star Pat O'Brian christening a Canadian-built Mosquito. De Haviiland in England decided to send a British-built Mosquito to attend the occasion, and subsequently tour Canada, also in support of the War Bond drive, and selected GB-D of 105 Squadron to be flown by Flt.Lt. Maurice Briggs DSO, DFC, DFM and Fg.Off. Johnny Baker DFC* as pilot and navigator for the tour. They had flown over 100 sorties as a crew with 1409 (Meteorological) Flight from Oakington on daylight missions over Germany to check the weather ahead of planned bomber operations, following which they had been transferred to Transport Command to ferry Canadian Mosquitos to England. Maurice Briggs had started the war as a wireless operator/air gunner on Whitleys with 77 Squadron, completing the tour in September 1940 and being awarded his DFM; he was subsequently accepted for pilot training and was sent to Canada under the British Commonwealth Air Training Plan gaining his wings at 37 Service Flying Training School at Calgary, the city which was to be a focal point of the Mosquito's tour and the only one scheduled with a two day stopover.
GB-D developed a malfunction en route and was replaced by LR503 GB-F. This aircraft was delivered to 109 Squadron of the Pathfinder Force at Wyton on 28 May, 1943 flying its first operation to Krefeld three weeks later; it was transferred to 105 Squadron at Bourn on 10 March 1944, acquiring the identity GB-F and flying its 100th operational sortie less than a year after its first. By the winter it had been given a bar above its letter F, a device used when a squadron had too many aircraft on its books to be accommodated within a single alphabet. It carried out its 213th and last operation, to Leipzig, on 10 April, a total greater than any accumulated by an Allied bomber during World II; although Mosquitos rarely wore nose art this tally, applied to the nose below the cockpit, was decorated with a cartoon mosquito dropping a bomb on Hitler. LR503, including apparently its nose art, was "spruced up" by de Havilland before its westbound departure.
On 6 May Briggs and Baker landed LR503 at Downsview, the Canadian de Havilland plant in Ontario which had been the departure point for their eastbound ferry flights; here they were joined by Captain Edward Jack of Ferry Command who was to act as their engineer, looking after the servicing of the aircraft on its tour, and headed west with a few one day stops before arriving at Calgary on 9 May amid the euphoria of the end of the war in Europe. Before landing Maurice Briggs put on an impromptu display, not just over the airfield but very low over the streets of the city. That evening the crew celebrated with dinner and drinks with friends, some from Briggs' previous time in Calgary, and on the following day there was a special lunch; scheduled for that afternoon was a triangular flight which would take the Mosquito to fly to Lethbridge and Penhold, both training airfields used in the BCTAP, before returning to Calgary. After take-off Flt.Lt. Briggs planned to make two low passes over the tower before setting course for Lethbridge. The planned 1500 take-off was delayed by over an hour while Captain Jack carried out minor work on the engines, but the Mosquito was airborne about 1615, returning to carry out the two scheduled passes very low over the airfield and then turning to make an unexpected third very low and fast pass; the wing touched the corner of the control tower shearing off the port wing and tailplane before hitting the ground about half a mile south of the tower. Both crew were thrown from the cockpit, and did not survive.
In the rest of the year that followed VE-day over two thousand five hundred aircraft of the RAF and RCAF were lost; which some of this total was due to the war continuing in the Far East they were substantially due to air or ground accident. Thirty-three of these took place on the 9th and 10th of May.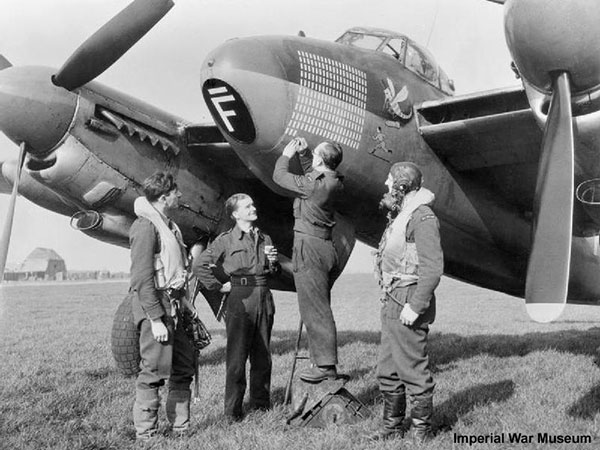 Scale 1:72    Wingspan 9.03″ (229 mm)
Base size 9.33″ (237 mm) square (No. 6) 
Weight not including base 1lb 4.75 ozs (588 grams)   
 Limited edition of 25 only
SOLD OUT