Curtiss P-40B
Curtiss P-40B    18P, 300
78th P.S. 15th P.G. Bellows Field, December 1941.
The Curtiss P-40 was developed as an inline-engined version of the Curtiss Hawk 75/P-36 fighter of the late 1930s, the new powerplant being an Allison V-1710 of just over 1,000 hp. The early versions were known to the RAF, who used them mostly in the Middle East, as the Tomahawk; the Americans, when they used a name rather than a designation, called all the variants Warhawk. These P-40s carried four wing-mounted 0.30" machine guns, with a pair of 0.50"s in the nose. The Allison engine was better suited to low-level operations, and the aircraft's usual role in the European theatre was reconnaissance or ground attack, but at the time of the outbreak of war in the Pacific it was the best aircraft in widespread USAAF service and was their primary interceptor.
When the Imperial Japanese Navy attacked the fleet anchorage at Pearl Harbor, P-40s were among the defenders, Bellows Field being one of the satellite airfields on Oahu. "300" was an early-style individual marking, this style being common to Bellows Field aircraft. The airfield was comparatively unscathed in the attack, and became a temporary loding for a selection of displaced units.
The olive drab/grey camouflage was the standard on USAAF fighters for some time, and on this aircraft the central red spot of the US national marking has already been painted over on this aircraft to reduce the possibility of confusion with the Japanese "Hinomaru" red disc, a practice that began in the spring of 1942.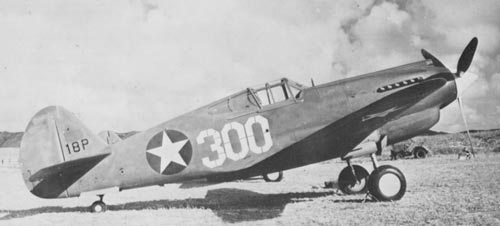 Scale 1:72    Wingspan 6.22″ (158 mm)
Base size 6.37″ (162 mm) square (No. 4)
Weight not including base 8.25 ozs (235 grams)
Total number of models produced 33