Boulton Paul Defiant Mk I Nightfighter
Boulton Paul Defiant Mk I Nightfighter    N1801   PS-B   'Coimbatore II'
264 Squadron, Frederick Hughes,1940.
After suffering heavy defeats against the enemy the Boulton Paul Defiant was relegated to nightfighter duties, this was where it was to find its greatest success. Still with 264 squadron Frederick Hughes flying the Defiant and later the Bristol Beaufughter was to become the fourth top RAF night fighting ace with 18.5 victories.
Initially Frederick Hughes was with 26 Squadron, but soon joined 264 Squadron flying Defiants in the Battle of Britain aged twenty one. He partnered Sergeant Fred Gash who was his rear gunner and together they made a deadly team.
On August the 26th 1940 they claimed two Dornier Do 17s but the Defiants proved to be too vulnerable to face Messerschmitt Bf 109s, 264 Squadron was converted to night operations. In December 1940 Hughes and Gash claimed their first nightfighting victory. The next two kills came in the spring of 1941. After that Hughes became one of few Defiant aces, but contrary to his colleagues he did not stop scoring after the withdrawal of the Defiant.
In June 1942 Hughes was posted to 125 Squadron as a flight commander. There he scored one day victory while flying the Merlin engined Beaufighter Mk. II and later another one day victory while flying a Beaufighter Mk. VI F. Both kills were accompanied by radar operator Pilot Officer Lawrence Dixon.
In late 1942 Hughes and Dixon were posted to Africa to 600 Squadron. There they scored nine more victories before they returned home. In July 1944, after six months of staff duties, Hughes joined 604 Squadron as its new CO. Now flying Mosquitoes he managed to score two more kills over North Western Europe.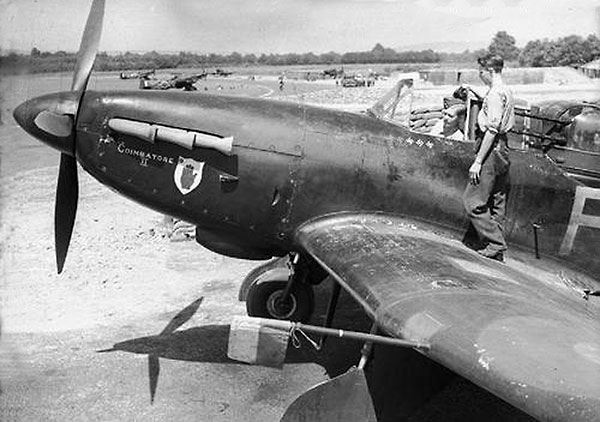 Scale 1:72    Wingspan 6.55″ (116.5 mm)
Base size 7.71″ (196 mm) square (No. 5)
Weight not including base 11 ozs (309 grams)   Limited edition of 100 only