Blenheim MK IV
Bristol Blenheim Mk IV    V6028    GB-D
105 Squadron, Wg Cdr Hughie Edwards VC, DFC, Swanton Morley, July 1941.
On the 4th of July 1941 Wg Cdr Hughie Edwards DFC set out on his 36th operational sortie, a low level bombing raid on the industrial complex at Bremen designated Operation 'Wreckage' it was a repeat of a previously unsuccessful attempt against the same target on the 30th of June. Leading a total force of 15 Blenheims, nine from 105 Squadron and six from 107 Squadron at Great Massingham Wg Cdr Edwards, in Blenheim Mk IV, V6028, 'D' held the bombers in a tight formation up to the target area; then, as the crews had been briefed the Blenheims were to separate into loose line-abreast and select individual targets. Once each Blenheim had completed its task it was to be every man for himself on the run-out and return to base. Crossing the North Sea at a mere 50ft above the water the Blenheims crossed into Germany just south of Cuxhaven, then swung southwards to Bremen. The Blenheims made their final approach jinking their way through the outer defence ring of tethered barrage balloons and dodging overhead telegraph cables. Edwards broke R/T silence to order the rest into the planned 'spread' formation, the object being to get his men across the target as quickly as possible before the flak defences were able to predict accurately the bombers' position. Nevertheless, the flak gunners were already throwing up a curtain of terrifying opposition at the raiders' height. Holding his buffeting Blenheim steady, Edwards ran across the dock area and released his bomb load, then, keeping as low as possible, ran across the heart of Bremen until he reached the outer suburbs. For those 10 minutes or so he was under constant attack by flak, his aircraft being hit repeatedly along the belly of the fuselage, with one shell bursting in the rear cockpit and wounding his gunner, Sgt G. Quinn DFM.
Banking left, Edwards circled Bremen to observe results and to watch the other Blenheims as these roared over the city on a mile-wide frontage. Three
of the original 15 had aborted the sortie shortly after take-off, but the remaining 12 led by Edwards pressed home their attack. Two of 105 Squadron's aircraft became flak victims, both crashing in flames, while 107 Squadron also lost two crews to the pulverising ground fire, including its commander Wg Cdr L. V. E. Petley.
All the Blenheims suffered flak damage as they twisted their way over and away from the target, one of them 'retreating' with severed telegraph cables trailing from its wings and tail unit. Edwards having completed his 'recce', headed towards Bremerhaven and Wilhelmshaven. Skirting Heligoland, he then flew out to sea at zero altitude for some 100 miles north of the Frisians before finally turning west for home. Landing back at base just before noon, he was the last survivor to return. His gunner, Quinn, was extracted from his gun turret by Coles crane and whisked away for medical attention, while the ground crew studied the damage to Edwards' Blenheim, much of the port wingtip missing, no port aileron, a cannon shell in the radio rack, telephone wires round the tail wheel and the under-fuselage looking like a colander with its shell holes.
Immediate awards to the survivors of 'Wreckage' included four DFMs, a DFC, and a Bar to Sgt Quinn's DFM; while on the 22nd of July came the award of a Victoria Cross to Hughie Edwards for the highest possible standard of gallantry and determination'.
Edwards' subsequent wartime career was equally distinguished gaining him a DSO in January 1943 and promotion to Group Captain a month later. Remaining in the RAF after the war Hughie Edwards rose to Air Commodore before finally retiring in September 1963 and returning to his native Australia. Further honours followed and included elevation to knighthood in 1974 and appointment as Governor of West Australia. Air Cdre Sir Hughie Edwards VC, KCMG, CB, DSO OBE, DFC died at his Darling Point home in New South Wales on 5 August 1982, Australia's most decorated airman.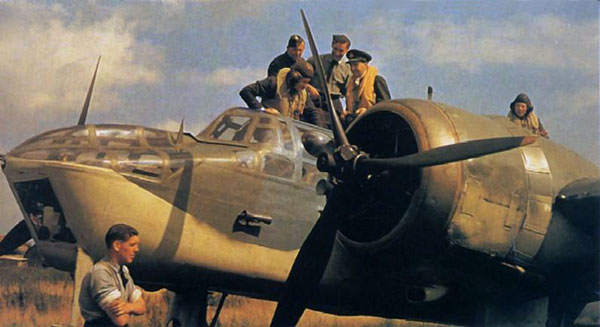 Scale 1:72 Wingspan 9.6″ (245 mm)
Base size 9.33″ (237 mm) square (No. 6)
Weight not including base 1lb 13.55 ozs (838 grams)
Limited edition of 50 only
Price £179.00 plus delivery Figures optional at £15 each.