Vickers Wellington Mk DWI
Vickers Wellington DWI   L4374
No. 1 GRU,    Ismalia Egypt,    1942.
The Vickers Wellington was called on to carry out many tasks in its versatile existence, but probably none more unusual that that which carried the DWI designation. This stood for Directional Wireless Installation, which was intentionally misleading; the role of these converted Wellington Mk Is was to find and explode the German magnetic mines that were a considerable danger to Allied shipping from the outset of World War II.
The first Wellington DWI Mk I, P2518, was flown in December 1939, having its turrets replaced by fairings and carrying a 48ft diameter circular coil made from aluminium alloy strip. This was energised by a current generated by an internally mounted Ford V8 car engine, and when successful caused the mine to explode after the aircraft had overflown it. P5218 was issued to No.l GRU (General Reconnaissance Unit) and carried out its first successful operation from Manston on 8 January 1940. Three further Wellington DWI Mk I conversions (Vickers type 418) were carried out, and all four were later upgraded to Wellington DWI Mk II standard (type 419) with the installation of a DH Gypsy Six engine to provide more generating capacity. Sweeps were generally carried out by a formation of three DWI aircraft, and on 10 May 1940 this technique was used to enable a safe naval evacuation by the Dutch Royal family. Shortly after this No.l GRU was posted to the Middle East. No.l GRU were there based at Ismalia, with their operations carried out over Alexandria harbour, and in particular the Suez Canal, and as the Allied armies advances along the coast the harbours of Tobruk and Benghazi. At least eleven further conversions to Wellington DWI Mk II standard were made, one of these being L4374, built at Weybridge in July 1939 as a Mk I. Others were converted in the field in the Middle East.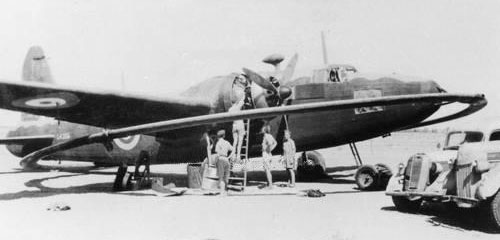 Scale 1:144     Wingspan 7.18″ (182 mm)
Base size 6.37″ (162 mm) square (No. 4)
Weight not including base 8.25 ozs (235 grams)   Limited edition of 100 only