Supermarine Spitfire Prototype
Supermarine Spitfire Prototype   K5054,
Type 300, Early 1937.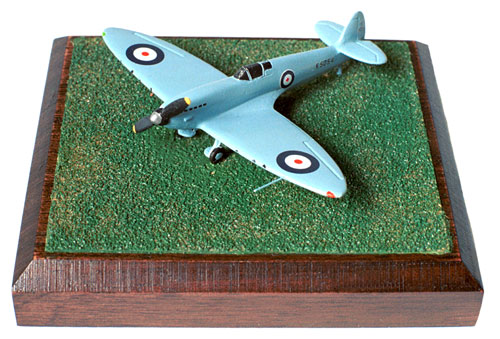 Scale 1:144      Wingspan 3.11″ (79 mm)
Base size 4″ (100 mm) square (No. 1)
Weight not including base 1.1 ozs (32 grams)
Total number of models produced 52
This elegant precursor to one of the most successful fighters of all time first flew on the 5th of March 1936. Known as the Type 300, K 5054 was flown by Vickers Supermarine chief test pilot Joseph Summers who on landing was reported as saying "I don't want anything touched." The aircraft is featured in pre Mk I guise with eight Browning machine guns. In January 1937 the Rolls Royce Merlin Type F Mk I engine produced 1045 horsepower a figure which was to be beaten many times with installations in future Spitfire types.