North American Harvard Mk IIB
North American Harvard Mk IIB   FT391, G-AZBN.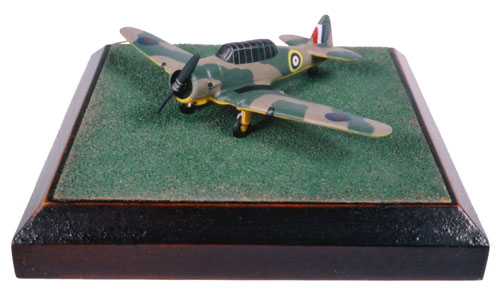 Scale 1:144     Wingspan 3.5″ (89 mm)
Base size 4″ (100 mm) square (No. 1)
Weight not including base 1.52 ozs (40 grams)
Total number of models produced 121
The Harvard Mk IIB was by far the most prolific of the North American Harvards, 639 of them being delivered to the Royal Air Force between May 1942 and December 1943. This mark was built under licence by the Nordyne Corporation in Canada – North American Aviation being by this time fully committed to the production of the P51 Mustang.
Although taken on charge and allocated RAF serial numbers, large numbers of the Harvard Mark IIB aircraft remained in store. In 1946, steps were taken to reduce this number and many were handed over by the RAF to various newly liberated European air forces. In August of that year, 116 unused aircraft were handed over to the Dutch Air Forces. Between April and June 1947, eight aircraft went to Denmark and between April and May of 1949, eighteen went to France. More went to Belgium, Norway and Holland.
Between August 1946 and November 1948, 193 Harvards were handed over to the Royal Netherlands Air Force with an additional 7 as a source of spare parts. Of this total, 50 (subsequently B-151 to B-200) were shipped direct from Canada after service with the Flying Training Schools of the Commonwealth Air Training Scheme. A few came back from South Africa, but at least 115 of the remainder had seen no previous service, having been allocated RAF serial numbers and then remained in store at various maintenance units. G – AXBN was amongst this group of 115 aircraft.
FT 391
NA Harvard AT-16 Mk IIB, c/n 14A-1431, ex 43-13132 was allotted Royal Air Force serial number FT391, remaining in store until 1947 when she was handed over to the Royal Netherlands Air Force.
B-97
The aircraft was taken on charge in October 1947 and allotted registration number B-97.
She remained on charge with the Royal Netherlands Air Force for 23 years until 1970.
PH-HON
The aircraft was civilianised in Holland at the end of her service career and allotted civilian registration PH-HON on the 10th July 1970. She was registered to a Mr. C. Honcoop of Veen (presumably accounting for the personalised registration?) As a matter of interest, B-158 was also reserved for Mr. Honcoop ut not taken up, presumably because he selected B-97 as the better aircraft. At the end of her Dutch career she had accumulated 2,719 hours 30 minutes. In 1971 she returned to the U.K.
G-AZBN
The Dutch registration was cancelled on the 8th July 1971. On the 13th of the same month, she was registered to Sir W.J.D Roberts of Shoreham (the founder of the famous Strathallen Collection). A Certificate of Airworthiness was issued on the 18th January 1972.
Restoration to her original RAF colours was carried out by Shoreham Aviation Services Limited and dispensation acquired from the RAF and the Civil Aviation Authority to carry her original service registration. These, together with the camouflage colours she now carries, were applied in 1978.
Subsequent owners were registered as follows: Colt Car Company Limited –
10th November 1981.
CE Aviation Limited – 10th January 1985.
Ashbon Associates Limited (Duxford) – 5th September 1985
On the 26th February 1987, G – AZBN was acquired by the Old Flying Machine Company Limited based at Duxford (the home of the Imperial War Museum and the recently opened USAF hall). She was used for the conversion of the companies' pilots to vintage tail-wheel aircraft for subsequent conversion to their Spitfires and Mustangs. In 1989 she was fitted with on-board cameras and used to film the aerial dog-fight sequences for the TV film 'Piece of Cake'