Messerschmitt Bf 109E-3
Messerschmitt Bf 109 E-3  9 Staffel/JG 26 'Schlageter',
Caffiers France, The Battle of Britain 1940.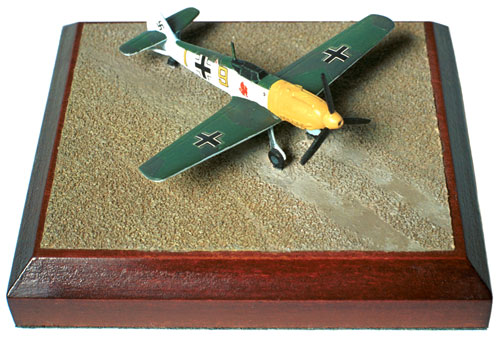 Scale 1:144     Wingspan 2.71″ (69 mm)
Base size 4″ (100 mm) square (No. 1)
Weight not including base 0.82 ozs (24 grams)
Total number of models produced 66
The main German fighter in The Battle of Britain was the Messerschmitt Bf 109E. Powered by the Daimler – Benz DB 601 engine it made a formidable opponent to the Hurricane and Spitfire. Whilst the Spitfire was its equal it outperformed the Hurricane in all but manoeuvrability. This aircraft was part of JG 26 'Schlageter' and was based at Caffiers, France in August 1940 for operations over Southern England during the Battle of Britain. Over thirty thousand Bf 109's were delivered in a number of guises and variants including interceptor, fighter-bomber, night fighter, photo-reconaissance, escort fighter, and ground attack aircraft.