Lockheed P-38J Lightning
Lockheed P-38J 'Lightning', CL-T  'Stinger'
338th F.S. 55th F.G. 8th USAAF ETO, Early 1944.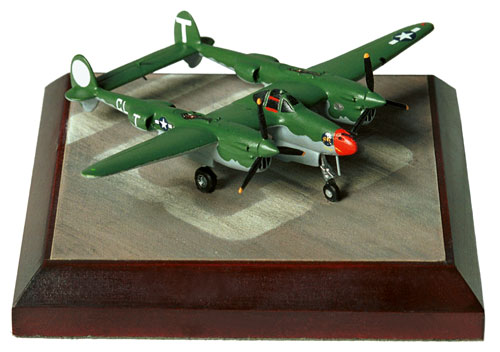 Scale 1:144     Wingspan 4.4″ (111 mm)
Base size 4.84″ (123 mm) square (No. 3)
Weight not including base 3.1 ozs (75 grams)
Total number of models produced 83
This rugged twin engined fighter was powered Allison turbosupercharged engines giving excellent high altitude performance and long range. It was armed with 4 x .50 in machine guns and 1 x 20 mm cannon, had a tremendous rate of climb and a top speed of over 400 mph. More than 10000 P-38 Lightnings were manufactured during WW II, however it was much more successful outside the European Theatre of operations, particularly in the Pacific. This aircraft named 'Stinger' was operated by the 55th Fighter Group (The Panthers) as a member of the 8th USAAF from September 1943 to July 1944. The 55th was the first Fighter Group to escort B17's to Berlin and back using only onboard fuel.