Hawker Tempest Mk V
Hawker Tempest Mk V    SD-K  EJ605
501 Squadron.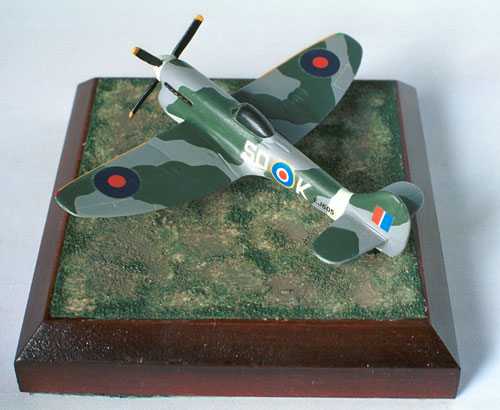 Scale 1:144     Wingspan 3.4″ (87 mm)
Base size 4″ (100 mm) square (No.1)
Weight not including base 1.8 ozs (52 grams)
Total number of models produced 173
The Tempest was developed from the Hawker Typhoon and came about due to the latters lack of performance at altitude. Tempest V's entered service with the RAF in April 1944 and almost immediately started operations defending the South of England against the V1 flying bombs. Later on they engaged in combat with the Me 262 jet fighters destroying 20 by the end of the war. This aircraft EJ605 was based at RAF Hawkinge as part of 501 Squadron one of whose pilots, Sqdn Ldr J Berry was the top scoring pilot against the V1, downing 61 1/3. Maximum speed of the Tempest V was 426 mph at 18500 ft.