Hurricane Prototype
Hawker F.36/34 'Hurricane' Prototype K5083
Martlesham Heath 1936.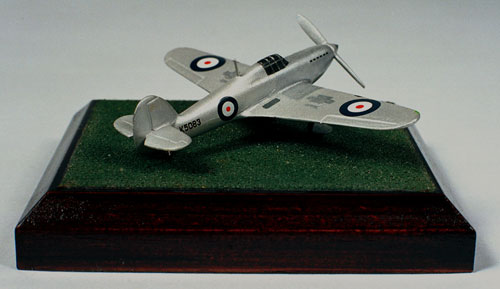 Scale 1:144   Wingspan 3.3″ (84 mm)
Base size 4″ (100 mm) square (No. 1)
Weight not including base 1.27 ozs (37 grams)
Total number of models produced 35
Originally known as the "F.36/34 Single-Seater Fighter – High Speed Monoplane" the Hawker Hurricane was together with the Spitfire to form the backbone of RAF's Fighter Command. Using construction principles developed from Hawker's earlier biplanes the Hurricane was the brainchild of Sydney Camm (1893-1966) and unusually did not rely on a stressed skin but used doped canvas to cover its wings and fuselage a design feature which led to the Hurricanes ability to sustain significant damage from enemy aircraft.   First flown on November 6th 1935 by test pilot George Bulman from Brooklands aerodrome K5083 began an intensive test program. Further flights were carried out in February 1936 at RAF Martlesham Heath and, on June 3rd the Air Ministry finally placed a contract with Hawkers for 600 of the new fighters. On June 27th the Ministry also sanctioned the name "Hurricane" for the new monoplane.