Hawker Hunter WB 188
Hawker Hunter  WB188  'World Air Speed Record', RAF Tangmere, 1953
Sqn. Ldr. Neville Duke DSO DFC.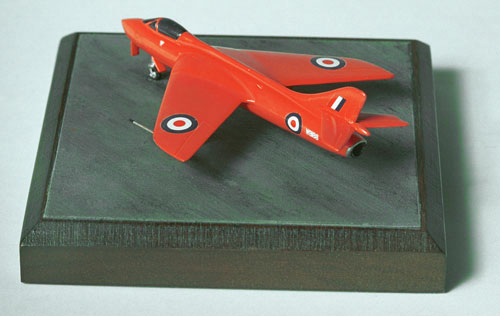 Scale 1:144     Wingspan 2.8″ (71 mm)
Base size 4.84″ (123 mm) square (No. 3)
Weight not including base 2.4 ozs (70 grams)
Total number of models produced 142
In 1953 Hawkers married the airframe of the prototype P1067 Hawker Hunter WB188 to an afterburning Rolls Royce Avon turbojet developing 9600lbs of thrust with reheat. Other modifications carried out included the removal of air brakes, a more streamlined pointed nose and shallower angled windscreen. Finished in red and highly polished the aircraft had been made as streamlined as possible. Flying from RAF Tangmere on the 7th September 1953 Sqn. Ldr. Neville Duke DSO DFC achieved a world record speed of 727.63 mph the last record to be held using the original FAI regulations restricting the height of the record attempt to below 100 metres. This standard model is shown whilst the signed limited edition with stainless steel plaque (not illustrated) is restricted to 188 only.