Hawker Hunter F6A
Hawker Hunter F6A   XE 530  (A)  26 Squadron, Gutersloh, Germany 1960.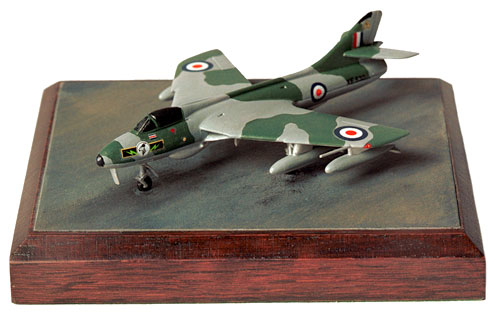 Scale 1:144     Wingspan 2.8″ (71 mm)
Base size 4.84″ (123 mm) square (No. 3)
Weight not including base 2.4 ozs (70 grams)
Total number of models produced 57
Entering service in July 1954 the Hawker Hunter was one of Britain's most successful aircraft being exported to many countries. Hawker Hunter F6A XE 530 started life as an engine test bed for Rolls Royce, after a brief spell with 20 Squadron it moved to 26 Squadron at Gutersloh, Germany where it is featured in the Squadron Leaders' markings in 1960 . The aircraft returned to Hawker when 26 Squadron disbanded in 1961. It was eventually converted to a T Mk67 and sold to Kuwait in 1969. 26 Squadron. was formed in October 1915 from the South African Flying Unit and this is recognised by the Squadron badge which features a Springbok. In 1959 and 1960 26 Squadron won the Inkpen trophy for the best overall air fighting squadron in the RAF.