Handley Page Halifax Mk III
Handley Page Halifax Mk III   LK-E, 'Excalibur', LK797  578 Squadron,
Flg Off Cyril Barton Victoria Cross, Burn, 30 March 1944.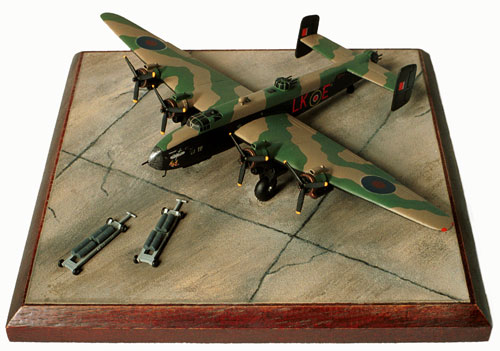 Scale 1:144     Wingspan 8.68″ (220 mm)
Base size 7.71″ (196 mm) square (No. 5)
Weight not including base 14.5 ozs (411 grams)
Total number of models produced 186
Only one Halifax aircrew member won the RAF's supreme award of the Victoria Cross for a single act of gallantry. Cyril (better known as 'Cy' or 'Joe') Barton met his end in this aircraft after crashing near Ryhope Colliery, south of Sunderland, after returning from a raid on Nuremberg. Attacked by a Ju 88 and an Me 410, the aircraft was badly damaged, and the bomb-aimer, navigator and wireless operator bailed out but Barton struggled back to save the remaining members of his crew, who survived the crash. Nose-art had been designed for Barton's aircraft, but at the time of the crash had been applied only in chalk, as shown. A schoolboy who witnessed the aftermath of the crash subsequently befriended the crew, and this nose art is based on their memories. Another Halifax pilot, Leonard Cheshire, received a VC in recognition of his extra­ordinary career, which included two Halifax tours and single tours on the Whitley and Lancaster.
Source: Osprey Aviation Books, Combat Aircraft Vol 14. ISBN 1-85532-892-5