Focke Wulf Fw 189A-1
Focke Wulf Fw 189A-1   V7 + 1H,  Wk Nr 2100, 1.(H)/Aufk.Gr.32 May 1943
Unteroffizer Lothar Mothes Iron Cross(1st & 2nd Class).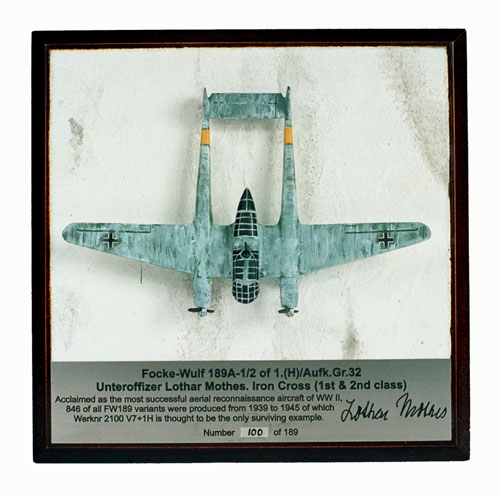 Scale 1:144     Wingspan 5″ (127 mm)
Base size 4.84″ (123 mm) square (No. 3)
Weight not including base 2.75 ozs (75 grams)
Limited edition of 189 only   Total number of models produced 43
When Lothar Mothes climbed into the cockpit of the Focke Wulf Fw 189A-1 reconnaissance aircraft  V7+ 1 H, on the 4th of May 1943, the 23 year old pilot had no idea of the traumatic two weeks in his life that lay ahead.
After being shot down by Russian fighters (Hurricanes) and crashing into a thickly wooded forest near Loukhi, behind Russian lined, he was knocked unconscious. The badly injured pilot found one of his crew, Ganther Albrecht, the rear gunner dead, and Kurt Lebrecht, the observer, dying. His attempts at saving his life were in vain and he began to organise his thoughts in order to avoid capture.
He had long before decided not to be taken prisoner by the Russians if he could help it, and so started the long trek back to his base. The journey took two weeks of walking, stumbling, wading and crawling. He searched for berries but was forced to eat tree bark and grubs. Lothar Mothes evaded capture and returned to his own lines where he spent nine months in hospital; convalescing. He had lost 20kg in weight, had severely frozen feet and head wounds. What no-one at his base thought possible Lothar Mothes had achieved, returning to his base through Russian patrols, front lines and very hostile conditions. He went on to fly more than 100 reconnaisance missions in Focke Wulf Fw 189A-1 aircraft.
Lothar Mothes survived the War and is alive and well. He is an honorary member of The Fw 189 Society which is restoring his aircraft V7+1H back to flying condition. This is the only known surviving Focke Wulf Fw 189A-1 in the world today.