Fairey Battle Mk I
Fairey Battle Mk I   LS-Y   P2177  15 Squadron A.A.S.F. Vraux,
Wg. Cdr. Hugh George, France, September 1939.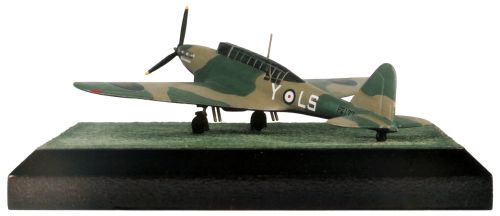 Scale 1:144     Wingspan 4.49″ (114 mm)
Base size 4.84″ (123 mm) square (No. 3)
Weight not including base 3 ozs (81 grams)
Total number of models produced 226
This Fairey Battle Mk I called 'Sytveste' was flown by amongst others Wg. Cdr. Hugh George once Chairman of the Blenheim Society. One of the ground crew / engineers for 15 Sqn. was aviation author Victor Bingham. The Battie carried four 250lb bombs had one 0.303 machine gun in the starboard wing and a Vickers K gun in the rear cockpit. On May 12th 1940 Flying Officer D E Garland (pilot) and Sergeant T Gray (observer) flying a Battle of 12 Sqn. were shot down in a desperate attack to destroy bridges over the Albert Canal, both were awarded posthumous V.C's the first to be awarded to the RAF in the Second World War; for reasons unknown the rear gunner who was also killed received no recognition.
The Fairey Battle Mk I was loved by its crews but was too slow and poorly armed. Even though it was obsolete, in 1939 it formed the equipment of 1 Group Bomber Command and the major part of the A.A.S.F. This force suffered huge losses culminating in raids against pontoon bridges at Sedan when 40 aircraft were lost out of a force of 71.