English Electric Lightning F1A
English Electric Lightning F1A   XM171
56 Squadron 'Firebirds Display Team'.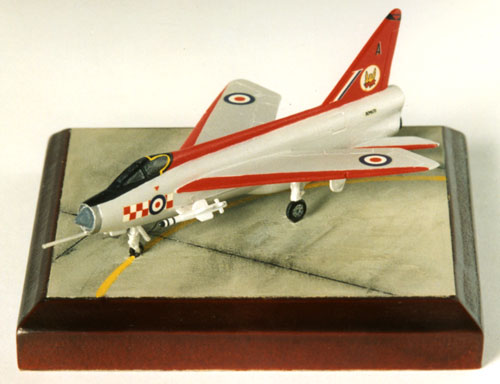 Scale 1:144   Wingspan 2.9″ (74 mm)
Base size 4.84″ (123 mm) square (No. 3)
Weight not including base 3.8 ozs (110 grams)
Total number of models produced 221
56 Squadron were the second RAF Squadron to receive this stunning interceptor, the last all British built fighter and the first with an integrated weapons system. It provided the cornerstone of the Quick Reaction Alert System for the defence of the V bomber bases. Capable of achieving a speed of Mach 2 in level flight and with a ceiling of 6000 ft this aircraft was the standard defensive fighter of the RAF for over ten years. In 1963 XM171 was part of the RAF display team 'The Firebirds' which featured a distinctive silver and red colour scheme.