de Havilland Mosquito Mk IV
de Havilland Mosquito Mk IV   HS-F   DK333  'Grim Reaper'
109 Squadron, Wireless Development Unit, 8 Group, RAF Wyton, 1942.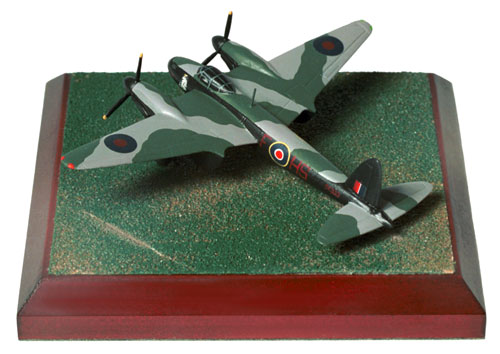 Scale 1:144   Wingspan 4.6″ (113 mm)
Base size 4.84″ (123 mm) square (No. 3)
Weight not including base 3.25 ozs (97 grams)
Total number of models produced 139
Based at Boscombe Down the Wireless Intelligence Development Unit was retitled as 109 squadron in December 1940. In 1942 it was moved to 8 Group Pathfinders at Wyton and started trials on Oboe the new navigation aid for bombers.
This aircraft well known for its grisly nose art and the name of "Grim Reaper" and was one of the first so called "musical mosquitos"
Sorties for these Pathfinder Mosquito's started in December 1942 and on the 31st December the first raid acting as sky markers for the main bombers took place. On the 5th March 1943 109 Squadron. carried out ground marking as part of a large raid on Essen.
The Mosquito rapidly became a very important part of Group Captain Bennets famous force one of the many vital roles this versatile aircraft performed.