Bristol Blenheim Mk I
Bristol Blenheim Mk I     PT-F   L1134    No 62 Squadron,
Alor Star, Malaya, 9 December 1941 Squadron Leader Scarf Victoria Cross.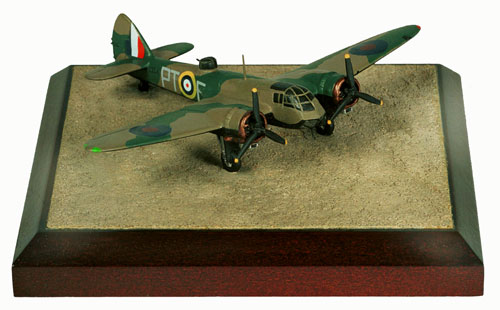 Scale 1:144     Wingspan 4.72″ (123 mm)
Base size 4.84″ (123 mm) square (No. 3)
Weight not including base 4 ozs (113 grams)
Total number of models produced 220
Having been hastily delivered to the Far East from UK stocks, FEAF's early Blenheim Is wore much the same colour scheme as the UK-based aircraft, with Night black undersides, dark earth / dark green top-sides and the usual national insignia for the period, including the underwing roundels and equal-width, almost square, fin flash promulgated in late 1940. The aircraft was fitted with new (locally fitted) Vokes filters below the cowlings no one had prepainted these to match the normal undersurface colour, so they remained grey. This was the aircraft in which Squadron Leader Scarf won his Victoria Cross.
Source : Osprey Aviation Books, Combat Aircraft 5. ISBN 1-85532-723-6