Bristol Beaufort Mk I
Bristol Beaufort Mk I  OA-X   N1016  42 Squadron, Coastal Command.
Flying Officer K Campbell Victoria Cross, April 1941.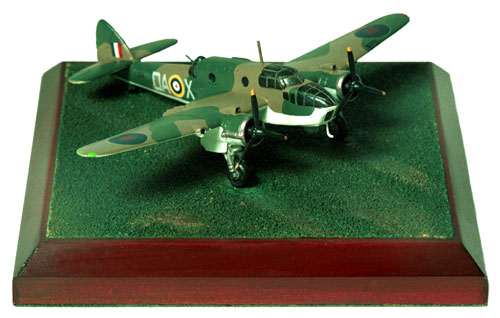 Scale 1:144     Wingspan 4.84″ (123 mm)
Base size 4.84″ (123 mm) square (No. 3)
Weight not including base 4 ozs (115 grams)
Total number of models produced 313
In the early part of WW2 the Bristol Beaufort Mk Is and Blenheims (from which the Beaufort was developed) bore the brunt of the early losses in attacks against enemy shipping. The Beauforts in fact suffered the highest casualty rate of any type of aircraft during WW2. The aircraft featured was on April 6th 1941 piloted by Flying Officer K Campbell in an attack on the Gneiseneau in Brest harbour.
The Air Ministry account of the part played by Coastal Command in the battle of the seas 1939-1942 and published at the time states ".. Six were given the task, three became bogged down while trying to take off. The fourth failed to find Brest in the haze.. The fifth went into attack a few minutes too late." This aircraft pressed home its attack through continuous streams of fire but found a bank of haze completely hiding the Battie Cruiser.
"The sixth and last Beaufort had attacked a few minutes before.. . The Beaufort came in very low and was at once under the fire of some 270 anti-aircraft guns….. the barrage of the guns of the warship itself and from those of the three fiak ships." The torpedo attack was successfully made and the Gneisenau badly damaged. It is believed that the Beaufort was subsequently shot down by 20mm cannon fire from the mole protecting the warship. All of the crew "A graduate from Cambridge a Canadian from Toronto, a farmer from Somerset and a chauffeur from North London" were killed. Frying Officer Campbell was posthumously awarded the Victoria Cross.
The Bristol Beaufort Mk I normally carried a Mk XII 18″ torpedo and was armed with a single Vickers gun in the turret, a forward-firing Browning in the port wing and a backward firing Browning in a blister turret under the navigator's position in the nose.