Bristol Beaufighter Mk IF
Bristol Beaufighter Mk IF   NG-R  R2101  604 (County of Middlesex) Squadron
Gp Capt John Cunningahm OC of 604 Squadron.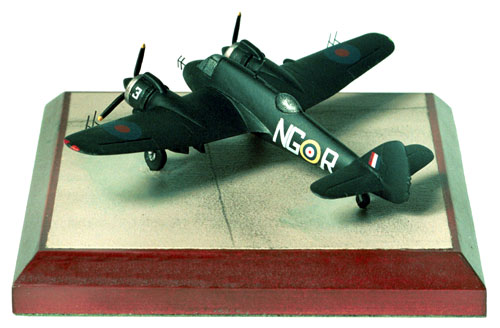 Scale 1:144     Wingspan 4.84″ (123 mm)
Base size 4.84″ (123 mm) square (No. 3)
Weight not including base 4 ozs (116 grams)
Total number of models produced 315
Developed from the Beaufort to fulfil an Air Ministry requirement for a heavily armed long-range escort or night fighter the Beaufighter Mk IF was powered by the Bristol Hercules radial engines. Standard armament comprised four 20 mm cannon in the fuselage nose, plus four .303 machine guns in the starboard wing with two more in the port wing. Radar carried was the AI Mk IV, the aerials for this project from the nose and leading edges of each wing. Unlike the Blenheim Mk IF which it superseded as a nightfighter, it had the speed and firepower to become an extremely effective weapon. The first Beaufighter Mk IFs entered squadron service in September 1940.
The aircraft featured was usually flown by Gp Capt John Cunningahm OC of 604 Sqn in April 1941. Gp Capt Cunningham was responsible for the first AI Mk IV radar Beaufighter victory on 19th of November 1940. He went on to become one of the leading nightfighter pilots with 19 victories. Victories for home based nightfighter pilots were few and far between until the introduction of GCI (ground controlled interception) in January 1941. By the end of May 1 941 over 200 Beaufighter Mk IFs were operational and growing ever more successful.