Avro Vulcan B2
Avro Vulcan B2   XH558  Bruntingthorpe.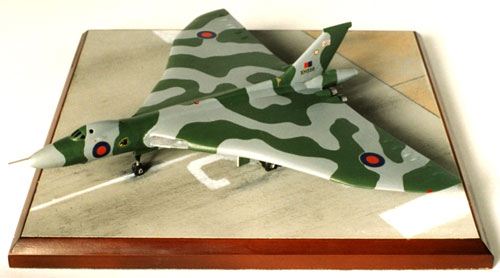 Scale 1:144     Wingspan 8.85″ (235 mm)
Base size 9.65″ (245 mm) square
Weight not including base 32.25 ozs (935 grams)
Total number of models produced 35
The Avro Vulcan, built by Avro at Woodford, near Manchester, spent over a quarter of a century as the backbone of the nation's deterrent force, also distinguishing itself in the low level strike/attack role, maritime reconnaissance, flight refuelling tanker, and as an engine test bed. Star of many air shows, it acted as an ambassador for the Royal Air Force all over the world.
The design began as an exploration into aerodynamics, and ended up as the most durable element of the famous V force. The aircraft has thoroughly earned its place as a prominent part of the history and heritage of the Royal Air Force.
Vulcan XH558, the aircraft of the RAF Vulcan Display Flight, based at RAF Waddington, near Lincoln, was the last flying example of this magnificent aircraft, but was also the first B Mk2 to enter service with the RAF. Vulcan XH558 first flew on May the 21st, 1960 and began her service career with 230 OCU at Waddington, later moving to RAF Finningley. She later served with 101, 44, 50 and 27 (Maritime Reconnaissance) Squadrons. In 1982 she returned to 50 Squadron, modified as a B Mk2 (K) flight refuelling tanker, to be used as a stop gap after the Falklands Campaign, when a sister Vulcan undertook the longest bombing raid in history to attack the Port Stanley airfield. In 1984, the era of the Vulcan came to an end with the disbandment of the last Vulcan Squadron at Waddington, but the farsightedness of some RAF officials meant that Vulcan XH558 was reprieved from the scrapheap, and in November 1985 she emerged from the RAF Kinloss paintshop in her now well known glossy camouflage finish.
Vulcan XH558 is 99ft 11 in long, has a wingspan of 111 ft, a maximum speed of Mach 0.9, a service ceiling of 60,000ft, and a range of 4600 miles at high level (without refuelling), and is powered by four Rolls-Royce Bristol Olympus engines delivering 18,000 Ibs of thrust each. The Olympus engine used in the supersonic Concorde, and Vulcan aircraft acted as flying test beds for this civilian version of the Olympus, and also the RB engine as used in the Vulcan's replacement, the Panavia Tornado.