Avro Lancaster B Mk X
Avro Lancaster B Mk X    KB772    VR-R   'Ropey'
419 Squadron RCAF, Middleton St George, April 1945.
The Avro Lancaster became an icon of the offensive war, but its development was, to use A J Jackson's word, fortuitous. The Avro Manchester had been designed to Specification P.13.36 to take advantage of two of the very powerful engines under development in the late 1930s, the Rolls-Royce Vulture, but this proved a disappointment, and R-R were unwilling to commit further resources to sorting out its problems. Although the Manchester was to serve with seven front-line squadrons of Bomber Command, Avro's chief designer Roy Chadwick had already planned an alternative installation of four Merlins, and this variant was ordered in to production before the Manchester entered service, with the prototype flying in January 1941 (as the Manchester B Mk III). The Lancaster joined 44 Squadron of Bomber Command on Christmas Eve 1941, carrying out its first operation in March 1942, and Sir Arthur Harris recorded in 1945 that from then until the end of the conflict the Lancaster dropped two-thirds of the tonnage of the Command's bombs.
A second source of Lancasters was established in Canada, and 430 were built with the designation Lancaster B Mk X; they were powered by Packard Merlins 75 or 224 (British-built Packard-powered aircraft were Lancaster B.Mk.III). 419 Squadron RCAF was flying Halifaxes from Middleton St.George (now Teeside airport) as part of the all-Canadian 6 Group when they were changed for Lancaster B Mk Xs in March 1944, keeping these until it returned to Canada in June 1945; 101 of these aircraft were issued to 419. KB772 joined the squadron in November 1944, flying 64 operations by April 1945, and was flown back to Pearce, Alberta in September. RCAF Lancaster squadrons were noted for decorating their aircraft, and the "sharkmouths" were worn on operations, but the name "Ropey" was only applied to the nose shortly before the aircraft's return to Canada. It served with the RCAF's Eastern Air Command until May 1947, with others of the type continuing, particularly in the maritime reconnaissance and search and rescue roles, until 1964.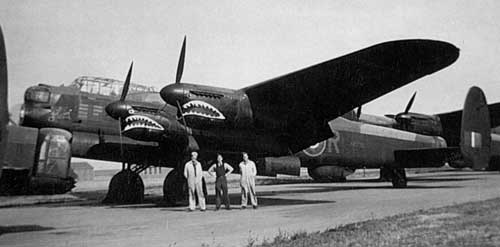 Scale 1:144 Wingspan 8.5″ (216 mm)
Base size 7.71″ (196 mm) square (No. 5)
Weight not including base 14.25 ozs (410 grams) Limited edition of 100 only