Avro Lancaster B Mk III Special (Dams Raid)
Avro Lancaster B Mk III Special     ED906/G    AJ-J
617 Squadron, Flt Lt D J H Maltby, RAF Scampton, May 16th,17th 1943.
Certainly one of the most famous bombing raids of World War II was 'Operation Chastise'. Carried out by 617 Squadron which was specifically formed to carry out this daring raid on the dams of the Ruhr Valley which provided drinking water, water for steel making and some hydro-electric power. The dams concerned were the Eder, Mohne and Sorpe.
To destroy these dams the assistant Chief Designer at Vickers-Armstrong, Barnes Wallis was asked to submit a proposal. He came up with the radical concept of 'bouncing' a bomb accross the surface of the water like a child skimming a pebble accross a pond. The bomb or mine as it was technically known would roll down the face of the dam and explode at a predetermined depth causing a breach.
Codenamed 'Upkeep' the live 9,000lb mines arrived at RAF Scampton on the 13th of May 1943.
On the night of the 16th and 17th of May nineteen specially converted Avro Lancaster Mk IIIs led by Wing Commander Guy Gibson left in three waves for Germany.
AJ-J flown by Flt Lt D J H Maltby followed the attack of Sqn Ldr H M Young DFC whose mine had hit the dam and exploding in contact begun its destruction. The parapet was already crumbling as Flt Lt D J H Maltby attacked (in ED906/G), this time with Gibson to port and Martin to starboard, and with all three gunners firing tracer into the flak positions. Maltby's Upkeep increased the size of the breach caused by Young's bomb, and Gibson's radio operator sent the codeword 'Nigger' (the name of Gibson's dog, killed in a road accident a day earlier) to No 5 Group. Gibson ordered Martin and Maltby to return, but pressed on to the Eder Dam with Young, and the three aircraft still carrying mines.
Ultimately both the Mohne and Eder dams were breached with a devestating effect on the surrounding area, but at a high cost to 617 Squadron. Of the nineteen Lancasters and one hundred and thirty three aircrew who took part eight aircraft and fifty six aircrew failed to return.
In recognition for his leadership Guy Gibson was awarded the Victoria Cross, the five surviving officer pilots were awarded DSOs, while two sergeants gained CGMs, fourteen DFCs and twelve DFMs were also issued.
617 Squadron still operates today and are known as 'The Dambusters'.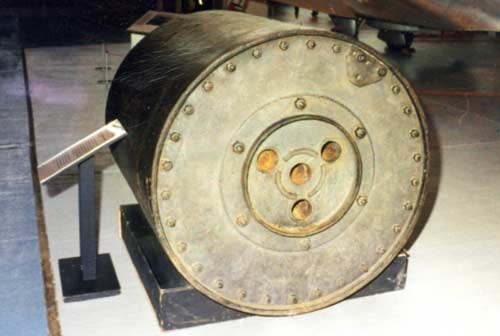 Scale 1:144     Wingspan 8.5″ (216 mm)
Base size 7.71″ (196 mm) square (No. 5)
Weight not including base 14.75 ozs (417 grams)   Limited edition of 100 only