Avro Lancaster B Mk I Special (Grand Slam)
Avro Lancaster B Mk I Special     PD119    YZ-J
617 Squadron, Woodhall Spa, Spring 1945.
The Avro Lancaster became an icon of the offensive war, but its development was, to use A J Jackson's word, fortuitous. The Avro Manchester had been designed to Specification P.13.36 to take advantage of two of the very powerful engines under development in the late 1930s, the Rolls-Royce Vulture, but this proved a disappointment, and R-R were unwilling to commit further resources to sorting out its problems. Although the Manchester was to serve with seven front-line squadrons of Bomber Command, Avro's chief designer Roy Chadwick had already planned an alternative installation of four Merlins, and this variant was ordered in to production before the Manchester entered service, with the prototype flying in January 1941 (as the Manchester B Mk III).
The Lancaster joined 44 Squadron of Bomber Command on Christmas Eve 1941, carrying out its first operation in March 1942, and Sir Arthur Harris recorded in 1945 that from then until the end of the conflict the Lancaster dropped two-thirds of the tonnage of the Command's bombs. One of the features inherited from the Manchester was the long uninterrupted bomb bay, which would enable it to carry increasingly large weapons. By the end of the conflict these had progressed through the 12,000lb. 'Tallboy' which was used by 9 and 617 Squadrons on the German battleship Tirpitz at anchor in a Norwegian fjord to the 22,000 'Grand Slam'. Thirty-two Lancaster B.I Specials were built to carry this weapon, of which twenty-four were issued to 617 Squadron. Since that unit had been formed specifically for the raid on the Dams in 1943 it had maintained its status as an elite unit, and by 1945 its role had been changed to bombing by day, marked by the change in camouflage with black undersides becoming medium grey, and red unit codes being outlined in yellow, and painted on the upper surface of the tailplane. To accommodate the weight of this Barnes Wallis-devised weapon all defensive argument except the tail turret was removed. PD119 itself was used on at least three 'Grand Slam' missions, flown by 617's "boss", Gp.Capt. J E Fauquier RCAF, attacking the Arnsburg viaduct on 19 March, the Bremen bridge on 23rd and the U-boat pens at Farge on 27th. The aircraft also served with 15 Squadron, and after the war with the Royal Aircraft Establishment at Farnborough, finally being struck off charge in September 1950.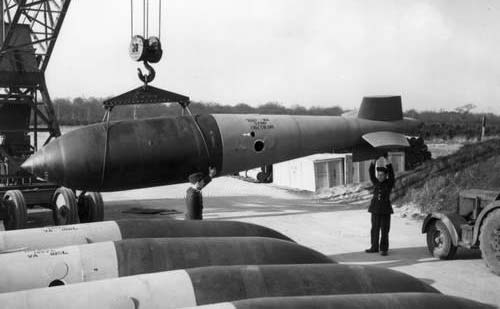 Scale 1:144     Wingspan 8.5″ (216 mm)
Base size 7.71″ (196 mm) square (No. 5)
Weight not including base 14.25 ozs (410 grams)   Limited edition of 100 only