Westland Lysander Mk IIIA(SD)
Westland Lysander Mk IIIA(SD)    V9763   MA-J "Jiminy Cricket"  161 Squadron,
Sqn Ldr Hugh Verity,  Tempsford,  1943
Legend has it that the Observer Corps, in the early days of World War II, divided its targets in to balloons, aircraft and Lysanders, on the grounds that its shape was unmistakeable. On account of its fuselage shape it was given the nickname 'the flying carrot'.
Air Ministry specification A.9/34 for a two-seat army cooperation aircraft to replace the biplanes then in RAF service drew seven responses, that chosen being Westland's P.8 from their senior designer Arthur Davenport and developed under the supervision of their technical director W.E.W. Petter, the first of several innovative designs for which Petter would be responsible. Advice was sought from service crews of the time, and the result was a high wing, to enable a good downward view, and a robust fixed spatted undercarriage to which weapons could be fixed. Prototype K6127, powered by a Bristol Mercury engine, was flown on 15 June 1936 by Harald Penrose, and at the end of that month appeared at the RAF Display at Hendon.
169 Lysanders were ordered in September 1936, and tropical trials were undertaken with 5 Squadron in Waziristan in March 1937 alongside its Wapitis. 16 Squadron at Old Sarum became the first to re-equip, with the Lysander receiving L4675 on 15 May 1938, and by April 1939 another five squadrons had also received the Lysander.
In the autumn of 1939 Lysanders went to France to undertake their traditional role, but had to return to England in early June. Air/Sea Rescue and target towing duties were added to the aircraft's roles.
The Lysander is principally remembered as the Mk IIIA(SD) "Special Duties" in the task of taking and retrieving agents from Occupied Europe under the co-ordination of the newly formed Special Operations Executive (SOE). For this purpose the Lysander was modified by Westland; the Mk IIIA(SD) had its rear-firing guns removed and was fitted with an additional 150 gallon fuel tank between the undercarriage legs, and a ladder permanently attached to the side of the fuselage for the swift disembarkation – or embarkation – of its passengers or 'Joes' as they were known to keep their identity secret from the pilots. This reduced the cruising speed by 25 mph but increased the range to over 1,100 miles.
138 Squadron was formed for the Special Duties role at Newmarket in August 1941 from 1419 Flight, and 161 was in its turn formed from the parent squadron in February 1942, taking on the Lysander role and moving to Tempsford in April (it was also equipped with Hudsons and Whitleys). This left 138 Squadron to operate the Halifax in the parachute dropping of agents and supply role.
Hugh Verity joined the squadron in late 1942, and as a Squadron Leader led the Lysander flight His particular aircraft, V9763 MA-J, carried a small "Jiminy Cricket" on its nose, beneath its mission markings (a Victory V for each operation). After leaving the squadron he became an air operations manager for SOE, and in 1944 was sent to South-East Asia to supervise the clandestine operations; he was then involved with the recovery and repatriation of prisoners of war.
He remained in the RAF after the war, retiring in 1965; in 1978 he published "We Landed By Moonlight", his memoirs of his time on special operations that has become a classic of its period.
In the words of Hugh Verity 'We were only vulnerable to the enemy on the ground for a few minutes at a time. They were at risk for months and years on end' A fitting and modest tribute to all involved in SOE operations.
The two figures featured are optional at extra cost.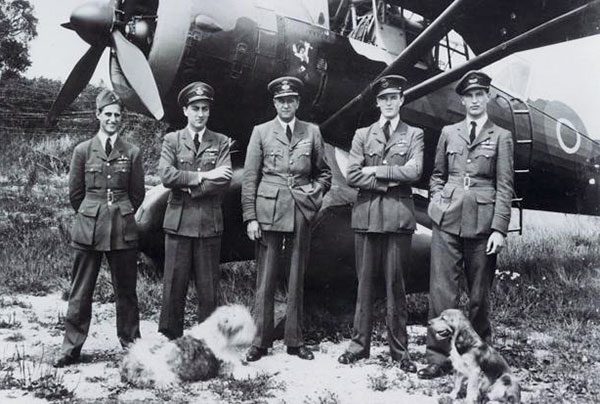 Scale 1:72    Wingspan 8.33″ (211 mm)
Base size 7.71″ (196 mm) square (No. 5)
Weight not including base 11.5 ozs (333 grams)    Limited edition of 50 only
 Price £99.00 plus delivery   Figures optional at £15 each.