Supermarine Spitfire HF Mk VI
Supermarine Spitfire HF Mk VI    BR255   YQ-U   616 Squadron,
Plt.Off. C B 'Cyclops' Brown,  RAF Kingscliffe,  25th May 1942
The origins of the Spitfire Mk VI were a request from the Air Ministry in February 1941 for the aircraft to be fitted with a pressure cabin. Spitfire Mk V R7160 was taken from the production line and modified with the new cabin. This required the conventional sliding canopy to be replaced with a demountable hood which was bolted down once the pilot was aboard – a feature unpopular with pilots despite the canopy being able to be jettisoned in the event of an emergency. As a result of trials, the Merlin 60 engine was fitted with a four-bladed propeller, and the standard VB wing was given extended tips; a contract for one hundred of the new mark was placed. The standard armament of two 20 mm. cannon and four .303 in. machines guns was retained, and the mark served with eight squadrons of Fighter Command.
C B Brown joined the RAF Volunteer Reserve in 1939, and after flying training joined 245 Squadron, then with Hurricanes, towards the end of the Battle of Britain; this was then based in Northern Ireland with limited opportunities for action. In 1941 he was commissioned and joined 616 Squadron; its Spitfire Mk VIs arrived in April 1942. Spitfire Mk VI BR255 was built at Eastliegh and joined 616 Squadron in May 1942. The intention was to use the Spitfire Mk VI to intercept high-flying reconnaissance aircraft, principally the Junkers Ju 86P, but this could operate effectively higher than the Spitfires, and its use also became increasingly rare, and the Spitfires we used in other roles, notably in Ramrod fighter sweeps over Northern France.
On the 25th of May 1942 Brown, attacking a Dornier Do 217 from astern in BR255, received damage from his quarry's rear-firing machine gun that resulted in the loss of sight in one eye, caused by splinters from his shattered windscreen. Surgeons were unable to save the sight of his eye, but gave him a glass replacement earning him the nickname 'Cyclops'. In spite of this Brown convinced his station commander, Group Captain Basil Embry, that his flying skills were unimpaired and he was able to return to operations and subsequently became a test pilot.
At Boscombe Down, with the Aeroplane and Armament Experimental Establishment he worked on testing the Tempest and Typhoon fighters and their weapons systems that were to play such an important part in the ground-attack role with the 2nd Tactical Air Force after D-Day.
He had a successful career in the service, and in 1956 was a senior instructor at the Empire Test Pilots School. After setting a record flying a Bristol Belvedere helicopter from Gatwick to Malta, he became Station Commander at Waddington, and flew its Vulcans from time to time; and while there he was involved in ensuring that the RAF's last flying Lancaster PA474 was preserved in flying condition, and it is this aircraft that now flies with the Battle of Britain Memorial Flight as EE139 'Phantom of the Ruhr'. Brown retired from the Air Force as air commodore in 1972.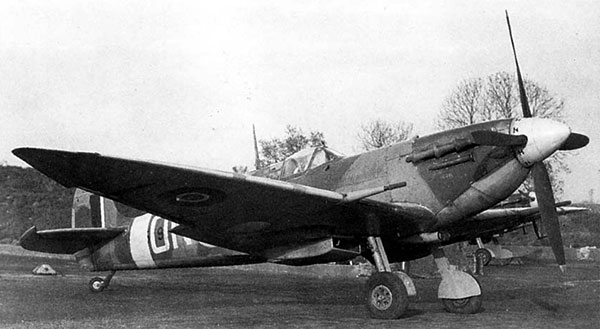 Scale 1:72    Wingspan 6.7″ (170 mm)
Base size 6.37″ (162 mm) square (No. 4)
Weight not including base 7 ozs (195 grams)    Limited edition of 25 only
 Price £89.00 plus delivery