Hawker Tempest Mk VI
Hawker Tempest Mk VI    NX201   JV-U   6 Squadron,
Deversoir, Egypt,   1948
With the end of the Second World War the Royal Air Force selected two variants of the Hawker Tempest for service overseas; the Centaurus-powered Tempest Mk II was based in Germany and the Far East and the Sabre-engined Tempest Mk VI was sent to the Middle East. This mark was a progressive improvement on the Tempest Mk.V that had become familiar as a destroyer of V-1 missiles and in the final phases of operations with the Second Tactical Air Force, with changes to improve its performance in hotter climates; the more powerful Sabre V required a larger radiator and a second oil cooler in the starboard wing root, and a Vokes filter was added inconspicuously behind the radiator cowling under the wing centre section. 300 were ordered from Hawkers at Langley but only 142 were built, serving with five squadrons across the Middle East at a variety of bases with the units often leading a somewhat nomadic existence on detachments.
6 Squadron's first Tempest Mk VIs were delivered to Nicosia in January 1947, replacing its ageing Hurricanes, the last in front line service with the RAF, finally leaving the squadron on 15 January. The Tempests served until the end of 1949 when in common with most of the similarly-equipped units in the area they were replaced by Vampires. The Tempests had been camouflaged when built, but serving in the Middle East most had the paint removed and were in natural metal finish. NX201 carries the squadron's "flying can opener" emblem on an access panel on the cowling; this was earned as a result of the Hurricanes' work in the Western Desert against Afrika Corps armour, notably equipped with a pair of 40 mm. cannon. In 1949 6 Squadron's Tempest carried 8 x 20lb armour piercing rockets. Army Cooperation and close support of ground forces had been a thread throughout the squadron's existence – the squadron's motto is "The eyes of the Army" – and their aircraft have often carried a "Gunners' Stripe" marking dating from their work with the army in the First World War; both these markings are now worn on 6's Eurofighter Typhoons.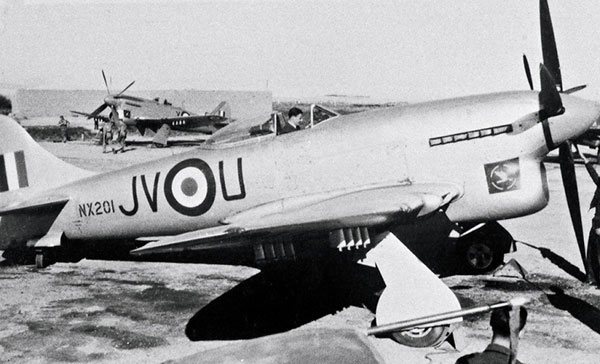 Scale 1:72    Wingspan 7″ (178 mm)
Base size 7.71″ (196 mm) square (No. 5)
Weight not including base 11 ozs (311 grams)    
Limited edition of 25 only
 Price £107.00 plus delivery   Figures optional at £15 each.